Ride More, See More
by Jeff Roth
Choosing public transit over driving makes ecological sense. When you combine bicycling and transit, you're helping the environment and getting a bonus of fun and healthy activity.
Bringing your bicycle on public transit opens many green options for getting around Boston and beyond. You can use transit to cover long distances and then have your bike at your destination to explore less traveled roads. In my experience, biking and transit excursions, either with your family or solo, are healthy, fun, and green, and won't get you stuck in car traffic.
Start here. Go anywhere.
Belmont offers several bike-and-transit options. Because many MBTA buses include racks for two bikes, you can get to and from Harvard Square with your bike. For longer trips, the Fitchburg commuter rail line, accessible from Belmont Center or Waverley Square, allows bikes in the vestibule area near the doorway on weekends and off-peak times. Heading west, I have found Concord and West Concord to be nice stops to ride around. Walden Pond is a gem of a swimming spot. You can bike there from either the Lincoln or Concord stations. (Biking to Walden Pond also avoids the hassle of trying to park, and you can bike right down to the beach.)
Heading east into Boston on commuter rail allows you to visit city destinations like the Charles River paths, the Esplanade, or the Seaport. From North Station, you can take trains to other bike-and-train destinations discussed below.
The bike coach on the Rockport/Gloucester line.
By land or by water.
Other MBTA commuter rail options provide great bike-and-train excursions. The Rockport/Gloucester line provides access to North Shore towns and beaches. This line has a bike coach—a dedicated car for carrying bicycles (see photo). The Cape Flyer, which runs in the summer from South Station to Cape Cod, also has a bike coach for no extra charge. This is a relaxing and scenic way to visit the Cape and avoid traffic congestion. You can get off either in Buzzards Bay or at the final stop in Hyannis.
Amtrak's Downeaster trains, departing from North Station, offer service to one of the most bike-friendly cities in New England—Portland, Maine.
Portland has many off-road paths and trails, great restaurants and culture, and a bike-boardable ferry line to Nova Scotia. From Portland, it is approximately a 15-mile ride on a popular off-road path called the Eastern Trail to Old Orchard Beach, where you can visit the summer carnival and beaches. (Although the trains stop at Old Orchard Beach, you cannot board or exit with a bike because of the platform structure.) Brunswick, Maine, is also accessible by bicycle on the Downeaster. (http://www.amtrakdowneaster.com)
Ferries are another way to leverage transit for cycling trips. If you take the Cape Flyer to Hyannis, it is a 50-mile pedal to Provincetown, where you can catch a ferry back to Boston. Depending on your level of cycling, this could be a one- or two-day bike ride, and you can enjoy the Cape Cod Rail Trail and visit beautiful beaches and spend the night in a B&B. Bicycles are also allowed on all MBTA commuter ferries, including Boston to Hull, another popular beach destination.
Pahk yoah bike with a Chahlie cahd.
In case you cannot take your bike on the train or wish to leave it at a station, safe and covered bicycle-parking facilities exist at many MBTA stations. Bike cages are now at Alewife, South Station, Back Bay, and other locations. Get a Bike Charlie Card from an MBTA service center to access these secure cages. At Alewife Station, now accessible by bike from Brighton Street in Belmont via the new Fitchburg Cutoff Bikeway, the Red Line subway allows bicycles on weekends and off-peak times. Also, bus lines to Lexington and Bedford can give you a rapid boost to these suburbs, which have a lot of great cycling routes and destinations.
Jeff Roth at the Pleasant Street trailhead on Brighton Street. From here you can ride eastward to Alewife, Cambridge, or Somerville, or west through Lexington, Concord, and Bedford on the Minuteman Bikeway. Once the Belmont section of the trail is complete, it will link with the Mass Central Rail Trail.
Go bigger or smaller.
If you find your regular bicycle too unwieldy to take on transit, consider a folding bicycle.You won't pay any fees for taking one along with you, and some models, because they fold tightly, even qualify as an airplane carry-on. Longtail bikes (cargo bikes) and tandem bikes open up great family biking options, though they can be difficult to take on the train. We ran into issues on the Downeaster Amtrak line with this but eventually got them aboard. If you're planning to take one of these larger cycles on a train, check ahead of time. Most conductors want to help you, so be sure to ask for assistance.
The Belmont path is coming.
The future expansion of the Belmont Community Path from Brighton Street west to Waltham and beyond will also expand biking-and-transit options. Belmont Center buses and commuter rail trains will be more accessible by bicycle once this off-road biking and walking trail is completed. The Belmont path will eventually connect Belmontians to the Mass Central Rail Trail, which will cross the Bruce Freeman Rail Trail in Sudbury.
The Mass Central Rail Trail, when completed, will stretch from Boston to Northampton. Currently it's possible to ride uninterrupted from Alewife to Bedford on the Minuteman Commuter Bikeway.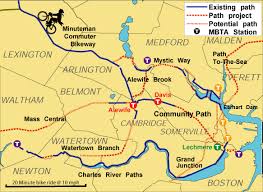 As the MBTA makes more stations ADA compliant, it will become easier to load and unload bicycles at commuter rail stations. While the conductors are usually eager to help with your bike, currently at Belmont Center and Waverley it takes some effort to lift your bike up the stairs. Amtrak and the MBTA are also updating railcars and equipping them with specific bike-friendly accommodations.
Combining transit with biking makes for a fun and healthy excursion or commuting option. Having your bike at your destination provides flexibility to explore many unique places.
The train in particular offers unique and beautiful scenery, as well as fostering an appreciation for railroad engineering, architecture, and the railroad heritage of our nation.
As one final benefit, my own children enjoy all forms of transit, so there is an added level of joy when making bike-and-transit excursions with kids. Whether commuting or for recreation, I have found that the bike-and-transit journey is the destination.
Belmont resident Jeffrey Roth is a member of MassBIKE, the Rails-to-Trails Conservancy, and the League of American Bicyclists, and is the former chairperson of the Belmont Community Path Advisory Committee. He enjoys cycling year-round for commuting and recreation.