Providing More Affordable Options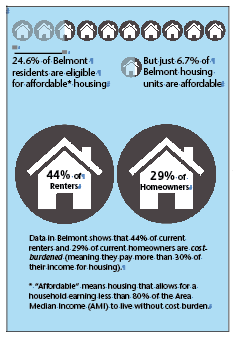 by Julie Perkins
Belmont is a wealthy town by most standards, with a higher-than-state-average median income. But a quarter of Belmont's population would be eligible for affordable housing if more were available, according to statistics gathered by Metro West Collaborative Development, a nonprofit based in Newton. And creating that housing (also called "community housing"1) would get the town out from under the threat of unwanted development—because Belmont would meet the state standard of having 10% of its housing affordable.
For the past two years, the Belmont Housing Trust has been working on a housing production plan (HPP) to encourage building housing that is affordable to groups such as town employees, seniors who wish to downsize, and families just starting out. To create the plan, the trust worked with two partners: Metro West Collaborative Development and the Belmont League of Women Voters. The HPP was funded in part by the contributions of Belmont residents under the state's Community Investment Tax Credit. (From amounts received in 2015 and 2016, the contributing group authorized about $15,000 to be used to pay Metro West for the research and create charts for the HPP.)2
Raising Public Awareness
Metro West provided statistical reviews of census and other data to demonstrate the need for—and lack of—affordable housing in Belmont. As part of developing the HPP, the trust held a series of meetings on "Imagining Belmont's Housing Future," to involve townspeople and make them aware of our need for increasing housing options and of the planning process being undertaken. The meetings also solicited the public's ideas and opinions on transit-oriented development, opportunities on public land, redevelopment of underutilized and industrial sites, and revitalization of existing community housing.
The resulting HPP is now on the town government website. (See the left-hand menu at belmont-ma.gov/housing-trust for links to the plan and its graphic summary.) Adoption of such a plan would be an important step in Belmont's efforts to meet the mandate for at least 10% permanently affordable housing stock. It would also remove or at least reduce the possibility of developers building unwanted, large-scale projects, such as the newly opened 298-apartment complex Royal Belmont in a formerly wooded area by Route 2. (The March/April 2017 Belmont Citizens Forum Newsletter article on Chapter 40B and safe harbor status explains the issue when a community has less than 10% of its year-round housing qualified as affordable.) The units in Royal Belmont and the Bradford will bring Belmont to the two-thirds mark, but the town will still fall 337 units short. (See box, page 4, "Belmont & Surrounding Towns.")
Belmont Prices Up 40%
The Housing Production Plan notes that 24.6% of Belmont's current households are eligible for affordable housing. To be eligible, a household needs to have income below 80% of the Boston area median income, adjusted for family size. The data show that 44% of current renters and 29% of current homeowners are cost-burdened (meaning they pay more than 30% of their income for housing). The problem is not getting easier: Belmont housing prices have increased by more than 40% since 2009.
Creative design can make larger buildings fit into the fabric of our neighborhoods.
Two groups are especially experiencing housing stress. Elderly Belmont residents are disproportionally cost-burdened and have very few housing options. In addition, the number of young families in town has been growing, but they too are disproportionately cost-burdened, while the barrier to entry into the community is very high.
The plan provides data on the growth in Belmont's population, especially its elderly and school-age population, and on housing development, housing unit types, age of housing stock, housing tenure, and housing market characteristics. It includes an inventory of subsidized housing. It analyzes housing affordability and zoning and residential development trends. Development constraints noted include environmental conditions, current zoning, local capacity, and limited availability of funds.
What Can Be Done
Based on discussions with the public and studies of Belmont's needs, the plan outlines housing production goals, including more community housing options for seniors, new families, and very low-income households, and it identifies several strategies to reach these goals:
• Maximizing transit-oriented development opportunities, such as near the Waverley and Belmont Center MBTA stations, along the Trapelo Road and Pleasant Street corridors, and on Moraine Street
• Leveraging any opportunities on public land in Belmont Center (municipal light building, police station), public land at Waverley Station, and the Department of Public Works site
• Supporting the redevelopment of blighted, industrial, and underutilized sites, which might include the vacant gas station on Blanchard Road and the Purecoat factory
• Looking for future public or other land or buildings that become available
• Working with existing community housing, notably Sherman Gardens and Belmont Village, which are in need of revitalization and could be reconstructed to accommodate more units
• Studying creative uses of community preservation funds to support development of additional affordable units.

Residents' Involvement is Key
Next steps for the Belmont Housing Trust are to get the plan reviewed by the Planning Board and selectmen and to obtain town approval to apply for state certification. The trust hopes town officials and residents will read the plan on the town website. It also plans distribution of fact sheets, talks, mailings, and encouragement of feedback.
Two groups are disproportionately cost-burdened in Belmont: the elderly and young families. And the barrier to entry into town is very high.
Standard opposition to building more housing—whether or not affordable—often starts with the statement, "There is so little available undeveloped land in Belmont." This assumes that additional units must be built on previously undeveloped land.
But with thoughtful rezoning, residential units could be permitted on upper floors of stores along main streets (such as Trapelo Road) or on presently underutilized sites. People may imagine a many-storied building, which is seen by some Belmont residents as contrary to our image of a "Town of Homes." But creative design can make larger buildingsfit into the fabric of our neighborhoods.   
Increased enrollment in the schools
already challenges the town, so some wish to restrict any new development to empty nesters or seniors. If Belmont made this a policy, the town would be in violation of federal fair housing laws forbidding discrimination based on family status. And when senior residents downsize to smaller units, their former homes become available to new families with children. That is the source of our current school enrollment increases.
Strategies include maximizing transit-oriented development opportunities, such as near Waverley and Belmont Center MBTA stations.
Recent thinking is now toward having affordable units dispersed throughout the community. This creates more diversity of income and ethnic backgrounds in the public schools and has been shown to enhance opportunities and reduce the need for future housing subsidies, welfare, or other supports.
As noted in a letter to the Belmont Citizens Forum Newsletter (September/October 2017), zoning changes to permit higher density in housing would reduce the town's carbon footprint through more efficient housing, shorter commutes, and more use of public transportation.
Footnotes
1."Community housing," as defined by the Community Preservation Act, is housing that is affordable to households earning less than 100% of the Area Median Income (AMI). The US Department of Housing and Urban Development updates the AMI by household size yearly. However, to count toward the 10% state mandate, housing must be permanently affordable at 80% of AMI.
2. The state's Community Investment Tax Credit program provides that with a contribution for affordable housing of at least $1,000, one can get a $500 tax credit on their state tax. The contribution has to go through a Community Development Corporation such as the Metro West Collaborative Development which receives an allocation from the state each year. In the Belmont case, contributors specified Belmont as the recipient.
Julie Perkins is chair of the Belmont League of Women Voters' Town Planning/Affordable Housing Action Committee.