Tree Plantings and Pleasant Street Pickup
by Radha Iyengar
On Saturday, April 29, the Belmont Citizens Forum (BCF) in conjunction with the Judith K. Record (JKR) Memorial Conservation Fund held its Fifth Annual Lone Tree Hill Volunteer Day. The rain held off and the volunteers came out in full force.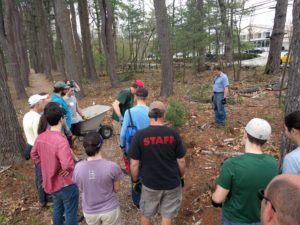 This year the work was divided between planting trees along the Pine Allee, and cleaning up the trash along South Pleasant Street (across from Star Market and Artefact Home & Garden).
In 2015, the JKR Memorial Conservation Fund engaged Tree Specialists, Inc. of Holliston, MA, to inspect the health of each tree along the Pine Allee. They subsequently embarked on a multiyear project to restore the allee. The allee consists of four rows of native white pines, Pinus strobus, estimated to be more than 100 years old.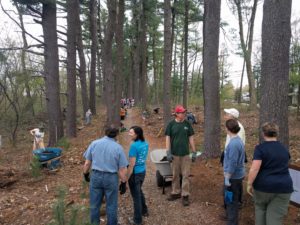 The Pine Allee is approximately 921 feet in length, has 165 existing white pines and is missing approximately 182 white pines. The largest-diameter tree at breast height is 33 inches versus the smallest at 5 inches. The trees are laid out in a triangular pattern, spaced roughly 10 feet apart, and run roughly east to west. There is a 10-foot-wide trail down the middle of the allee.
White pines have a shallow root system, which makes it easy for them to blow over in a windstorm, but also makes it easy to transplant them. Because they are so close together, the trees in the windbreak tend to concentrate their growth near the top to compete for light, which makes them more vulnerable to wind and snow load. Thus the trees were pruned earlier this year to reduce this risk.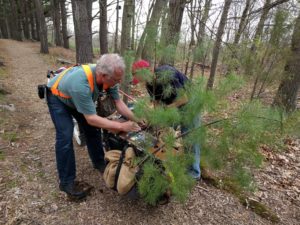 Under the guidance of Tree Specialists experts David Ropes, Barbara Keene, and Nick Cokonis, volunteers planted 45 white pines in record time. The Belmont Land Management Committee purchased 30 of them and volunteers also transplanted 15 white pine saplings that were located near the Pine Allee. The Tree Specialists will be responsible for watering the trees and will monitor the growth of the three types of planted saplings to determine if one type thrives best for future plantings.
Meanwhile, at the Pleasant Street end of the Lone Tree Hill conservation land, enthusiastic volunteers collected 15 large bags of trash, three boxes of recyclables, one box of broken glass, and two boxes of plastic bags, as well as a sleeping bag.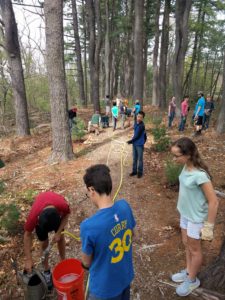 More than 50 volunteers worked on the projects. Among them were students from Belmont High and Chenery Middle School, two Judith K. Record Fund Trustees, and seven BCF board members.
A special thanks to Tree Specialists who flagged the Allee beforehand and supervised and instructed the volunteers; to Roger Wrubel, Habitat director, and Sandy Vores, Habitat property manager, who sent 10 volunteers from their Habitat Annual Volunteer Day to lend a hand at the Pine Allee; and to Michael Santoro, DPW Highway Division manager, and his staff, for picking up the trash. Star Market allowed volunteers to park in their parking lot.
Radha Iyengar is treasurer of Belmont Citizens Forum and organizer of BCF Volunteer Day.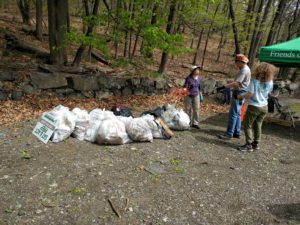 THANK YOU VOLUNTEER DAY CORPORATE SPONSORS
Platinum Level: Northland Residential
Gold Level: Ann Mahon Realty, Cityside Subaru, East Boston Savings Bank and Watertown Savings Bank
Silver Level: Artefact Home and Garden, Belmont Land Trust, Belmont Savings Bank, Cambridge Savings Bank, Century 21 Adams Lawndale, East Cambridge Savings Bank, Middlesex Savings Bank, Renaissance Realty, and The Great American Rain Barrel.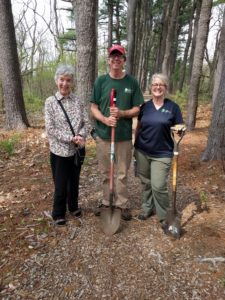 Community cosponsors include: Belmont Land Management Committee for Lone Tree Hill, Mass Audubon Habitat Sanctuary, and Sustainable Belmont.
Photos by David Chase and Radha Iyengar. From top: Volunteers gather to receive instructions for the tree planting. Teams begin work on the Pine Allee. David Chase (left) and David Merfeld (hidden!) transported trees via bike. Students earn community service credit for volunteering. Evie Malliris gathers the trash collected along Pleasant Street. Kit Dreier, president of the JKR Fund (left),with David Ropes and Barbara Keene (Tree Specialists).