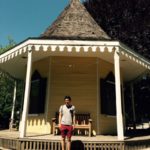 Discover Belmont! Belmont "Staycation" 2016 is Here!
Vacations are fun and relaxing, but can also be harsh on your wallet and the environment. A perfect way to stay environment- and budget- friendly is by having a Staycation! A Staycation is exactly what it sounds like; it's a vacation in your hometown. Come with us to explore what Belmont has to offer for fun. We have created a Staycation Passport with categories to check off, as well as a suggested 7-day schedule  below. Try to discover as many new activities as possible, mixing and matching to accommodate your interests and your schedule. These are only suggestions: feel free to enjoy and suggest other activities Belmont has to offer!  Thank you to those who already suggested ideas; we tried our best to incorporate as many as we could.
The idea is to pick a start date and spend a few days discovering new activities and old favorites in each of twelve passport categories during August, all right here in Belmont!  You can get your own Staycation passport from the Belmont library, or you can fill out the online version.  The passport is a way to keep track and share your discoveries with the rest of us.  Submitting your passport by August 31 is also one of the ways to take up the Staycation Challenge and become eligible for our Staycation prize drawing September 3!
Checkout this Belmont Media Center very short video of  the Belmont Staycation Picnic on August 13th.  You will see blankets and picnic baskets, popsicles in the historic Underwood family ice chest, a croquet set from the Belmont Woman's Club, and teen yoga led by Groundwork Yoga+Wellness.  We announced the prizes for the September 3 Staycation prize drawing.  You have until August 31 to submit your passport, postcard, or survey.  We also welcome email suggestions for fun ways to spend our prize budget at belmontstaycation@gmail.com.
We invite you to help build community and reduce the carbon footprint of Belmont residents for years to come by encouraging us all to "Act Local" and vacation without air travel!   If you have questions about this project, contact  us at belmontstaycation@gmail.com. Finally, go ahead and Like the Belmont Citizens Forum Facebook page!
---
The Staycation Challenges:
We have several August challenges with prizes, so you will definitely want to participate:
Our first challenge is the Belmont Staycation Selfie challenge. Take a selfie at any of the locations we have listed on this article and post it on the Belmont Citizens Forum Facebook page to get entered into our raffle!
Our second challenge will be the Belmont Staycation Passport challenge. Pick up your physical passport at the Belmont Public Library and other locations around town, email us at belmontstaycation@gmail.com to request one, or submit a passport online. Another way to enter the raffle is to fill out what you do in each category and send it to Belmont Citizens Forum P.O. Box 609 Belmont, MA 02478.
Our third challenge is for you to take the Belmont Staycation Survey  to help with our research about how residents plan their vacations — we're hoping to do this again based on what we learn in 2016!  This is another great way to become eligible for one of our Staycation prizes.
---
The Staycation Prizes
At our August 13 picnic, we announced 7 prizes based on suggestions from participants and volunteers:
To be eligible for the drawing, participants must provide contact information to the Belmont Citizens Forum through at least one of the following Staycation Challenges by August 31, 2016:
Only one prize per person is allowed.
In September, our summer intern will select 7 eligible participants at random as winners.   Each winner will be contacted via email and/or Facebook to notify them they are a winner and to ask them to rank the prizes in order of their preference. A winner must reply to BCF within 3 days or their prize eligibility is forfeited or we will select another winner at random from remaining eligible participants and give the replacement winner 2 days to reply. As each winner responds, we will distribute the top choice of the first winner to the first winner, the highest available choice of the second winner to the second winner, etc. in accordance with the order in which each winner was selected from among all eligible participants.
Here are more details about the prizes:

1. Plant a Tree!
The benefits of planting a tree in Belmont are enormous! If you choose this prize, Belmont Citizens Forum commits to working with you and the town to find a great location for a new tree, to handle the logistics of obtaining any necessary approvals on public land, and to contribute and solicit additional funds to cover the expense of its purchase, planting, and initial maintenance to ensure it thrives. It might be a street tree, one of the trees in the Clay Pit Pond Intergenerational Path Design, or even just on your own property; you get to be as involved in the selection process as you want to be.

2. Free Yoga class at Groundwork Yoga + Wellness
Whether you are a beginner or experienced, this is a local studio you'll want to try on your next Staycation! We're grateful for Groundwork's commitment to the community
"Groundwork yoga + wellness offers classes and workshops that encourage self care of body and mind, healthy families, and a mindful community."

3. Guided Nature Walk in Belmont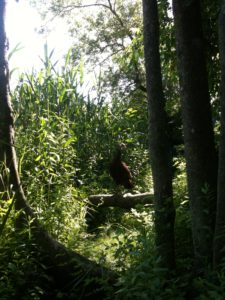 Anne-Marie Lambert has been leading nature walks in Belmont for years and offers to guide you and a group of up to 10 people on a 1-2 hour tour of one of the magical trails in Belmont! Take your pick of Lone Tree Hill with its meadow and woods, Beaver Brook Reservation with its waterfall and duck ponds, the North Trail of Alewife Reservation traversing Cambridge and Belmont by the new Royal Belmont apartments, Rock Meadow as part of the Western Greenway into Waltham and Lexington, or the Waverly Oaks Trail to learn about the rich history of this neighborhood of Belmont and Waltham. Whatever season you travel there, you are sure to learn a lot about the natural environment and Belmont history!

4. Your Choice of One of Four Belmont Nature Books
Belmont has some interesting history and some great local authors. Choose one of these books and we'll get you a copy to read on your next Staycation!
Diet for a Small Planet 20th edition

by Belmont author Frances Moore Lappe

Birds of the Northeast

by Belmont author Chandler Robbins

Belmont Then & Now

by the Belmont Historical Society

Images of America: Belmont

by Cynthia McCarthy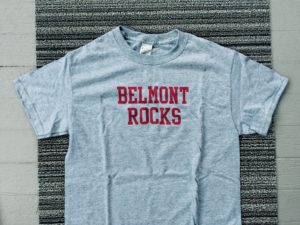 Show your Belmont pride with this T-shirt donated by Champions Sporting Good store!
Located at 53 Leonard Street in Belmont Center, Champions is a full service sporting goods store:  "As a locally owned, Independent retailer our focus is on providing high quality sports equipment and apparel at the best prices available with great and friendly customer service. At Champions we support our community and sports, stop by and check us out."

6. & 7. Ranc's Gift C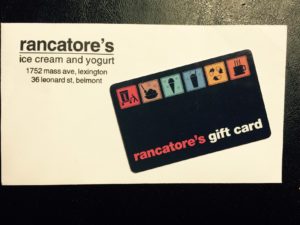 ertificate
We are offering two $5 gift certificates for Ranc's ice cream shop in Belmont Center, a very popular prize suggestion from our high school Staycationers!
---
A Suggested 7-day Staycation in Belmont:
Notes:
See below for a calendar view; a tree symbol (🌲) denotes an environmentally friendly activity.
These are only suggestions — See our blog or Facebook page for more ideas in the form of postcards from other Staycationers! 
Jump to a particular day of the week: Monday, Tuesday, Wednesday, Thursday, Friday, Saturday or Sunday

Monday:
Groundwork Yoga + Wellness: If you have been stressed during the summer, this may be the place for you! Groundwork Yoga offers yoga classes for people of all ages, so you can go alone or bring your family. As quoted directly from their website, "[o]ur studio is warm, not hot. Classes are heated to 70-75 degrees." This studio is perfect for anyone who wants to be environmentally-conscious while working out in the neighborhood.
Location: 402 Trapelo Road Belmont, MA 02478
Prices (more options available):

Adult Drop-In: $17
Child Drop-In: $12

Types of Classes:

Standard Yoga
Family Class (2 kids free per adult)

Phone Number: 617-866-9332
🌲Beaver Brook Reservation: It's a state park with a bike path, fishing opportunities, sprinklers, fields, and woodlands. Did you know that Beaver Brook is also home to a waterfall? Check out this trail map.This will be a great place to take your family. There is also a sprinkler park if your kids need to cool down after a hot summer day.
Location: Mill St, Belmont, MA 02478
Studio Cinema: Want a relaxing day? The Studio Cinema may be perfect for you to lie back and enjoy some time in a cool theater. The theater will be showing Finding Dory and The Secret Life of Pets this summer, so make sure to take your kids to these family-friendly films! From August 1-11, the cinema will be showing Jason Bourne with Matt Damon. They will also be showing Florence Foster Jenkins with Meryl Streep and Hugh Grant later in August. One Belmont resident explained it as having "air conditioning, movies, REAL butter on popcorn… pretty perfect on a hot night."
Location: 376 Trapelo Road, Belmont, MA 02478
Ticket Prices:

Adult: $11.00
Child: $9.50
Senior: $9.50

Times: 1:30, 2:30, 3:30, 5:30, 7:30
Phone Number: 617-484-1706
Buy tickets here.
Il Casale (Italian Cuisine): Don't want to clean the dishes? Try some Italian food at Il Casale on your Staycation to get a taste of Europe!
Location: 50 Leonard Street, Belmont, MA 02478
---
Tuesday:
🌲Claypit Pond: Take a walk around the pond, bring a library book to enjoy on one of the park benches as you enjoy the historic trees and a beautiful view of the water.
Location: In front of Belmont High School
🌲Belmont Acres Farm: Did you know Belmont has a farm? Enjoy the green and the country feel in your town! Stop by the farm and pick up some fresh food. This local five-acre farm also features many recipes on their website!
Location: 34 Glenn Rd, Belmont MA 02478
Family Game Night at the Belmont Public Library: Come to this free event (with snacks and drinks) to play some games with other families. You will meet new people and have fun learning how to play an assortment of games.
Location: 336 Concord Ave, Belmont, MA
Date: August 16th, 2016
Time: 6:30-8:30 pm
The Belmont Council on Aging's 4th Annual Talent Show: Stop by the Talent Show to get a sense of some local talent.
Location: Beech Street Center, 266 Beech Street
August 23rd at 1:15 pm
---
Wednesday:
Underwood Pool and Park: Visit the local pool on a hot day. There's a playground, a grassy area for a picnic, and (of course) the pool.
Location: Cottage St, Belmont, MA 02478
Day Pass Prices: (more options available)

Adult: $10
Child $5 (1-18)

August 14-September 5th

10 am-7:30 pm
More information here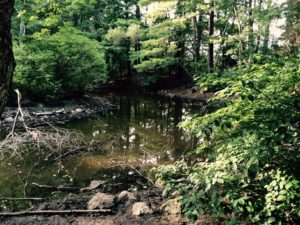 🌲Volunteer at Habitat: You can help with gardening, planting trees, weeding invasive plants, and even more! Stop by and volunteer for a few hours, explore Turtle Pond, and check two boxes on your passport!
Time: 10 am- noon
Location: Habitat, 10 Juniper Road, Belmont, MA 02478
Rancatore's Ice Cream and Yogurt: A variety of cool flavors; make sure you stop by this shop to try a bite.
Location: 36 Leonard Street Belmont, MA 02478
Price Range: $4-9
Check out Ranc's website to see what flavors they have ( updated hourly!)
Payson Park Music Festival: Come on down to the Payson Park Music Festival and enjoy some free concerts this summer. There's a variety of genres, so make sure you try to attend! Bring your picnic basket and blanket to have a quick dinner and check off one of your passport boxes.
August 3rd (6:45 pm)

The John Baboian Quartet Swing and Sinatra, with special guest vocalist Steve Marvin

August 10th (6:30 pm)
August 17th (6:30 pm)

Martin and Kelly Rockin' Country

August 24th (6:30 pm)
August 31st (6:30 pm)
---
Thursday:
Belmont Gallery of Art: Free art exhibitions for anyone interested. If you like art, then this is the place for you. Walk around the gallery and explore the exhibit to experience some local art.
Exhibit: Head Trip- works by Richard Hill
Location: Belmont Gallery of Art, Homer Building, Town Hall Plaza
Date: June 13-August 25

Monday through Thursday 10am–4pm
Fridays 10am–1pm
Pamper yourself: Enjoy a relaxing and local massage at Elements Massage (693 Belmont St, 617-484-3400, 9 am-9pm, $59 for first hour, $30 off intro massage), get a manicure with a friend at Dove Nails (258 Blanchard Rd, 617-484-1713, 10 am-10pm), or consider a spa package at the American Day Spa (493c Trapelo Rd, 617-484-6003). Let us know your favorite!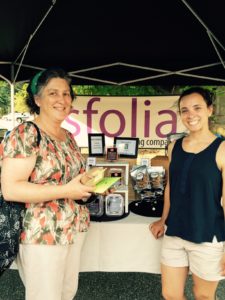 🌲Farmer's Market: Love food? The Farmer's Market may be the right place for you! There's local and fresh food for anything you desire. Enjoy performances and discover local businesses like Sfolia. Try to make your own dinner with some of the ingredients you pick up.
Location: Town Center Parking Lot
Dates: June 9-October 27
Visit the Claflin Room in the Memorial Library: Come on down to the Claflin Room at the Belmont Public Library on Thursday night to learn more about Belmont's history and culture. This event is staffed by volunteers from the Belmont Historical Society.
Times:

Open from 7-9 pm on Tuesday and Thursday, 4-6 pm on Wednesdays
---
Friday:
Bike to the Everett C. Benton Library: Ever seen this building but not really sure of what it was? The library will be a new experience for anyone interested, and you may find a book you've always wanted to read right here.
Kitchen on Common: An assortment of home-style cooking, burgers and sandwiches to mix with soups and salads. Come here for lunch or dinner.
Location: 442 Common St, Belmont, MA 02478
Price Range: $11-30
11:30 am-8:30 pm (note: closed August 1)
Phone Number: 617-484-4328
Menus available online for lunch and dinner
Moozy's Yogurt and Ice Cream Emporium: Try their ice cream or frozen yogurt bar and treat yourself to some sweet treats — check out their Facebook page!
Location: 2 Trapelo Road Belmont, MA 02478
🌲Fresh Pond (Black's Nook): Visit Fresh Pond's Black's Nook, which was part of Belmont until 1880. Take a walk with your family and enjoy the view of the water and nature. This reservoir was once a part of Belmont and may be right in your backyard. Take a stroll on the path with your entire family, or just yourself if you want some alone time. You will be surrounded by nature on all sides. Best of all, it is free and environmentally-friendly! Note: Part of the perimeter is under construction. Check the Cambridge Water Department web site for more details, of the Friends of Fresh Pond for events and photos.
Return to top of page
---
Saturday:
Volunteer at the Belmont Food Pantry: Ever been on a service trip somewhere? If you have, then you may want to look into volunteering at the Belmont Food Pantry. Even if you don't do much community service, you are welcome to stop by and volunteer. Make sure to arrive 15 minutes before the start of a shift.
New Location as of July 30: 1010 Pleasant Street, near Star Market parking lot
Times to Volunteer:

1st and 3rd Saturday of each month (8:30-9:30 am)
4th Sunday of each month (12:30-1:30 pm)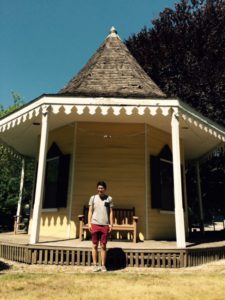 🌲Staycation Picnic: Ever wanted to see what's inside the yellow building by the center! Well, this may be your chance! We will be learning about the history of Belmont with guest speakers and fun activities. There will also be popsicles to help cool you down after a hot day. From 1-1:30m, we will be having a yoga instructor from Groundwork Yoga + Wellness stopping by to instruct a free yoga class for kids. The Belmont Woman's Club will also be providing us with a croquet set.
Date: August 13th, 2016 (noon-3 pm)
🌲Garden Day: Spend a day in your garden. Grow some vegetables, flowers, and even a tree!
🌲Bike Trip: The Minuteman bike path has so much to offer, and you shouldn't miss out! Ride with your family and see how far you can get. Enjoy a cool breeze while getting in some exercise. Bike along the path into Cambridge and Lexington.
Return to top of page
---
Sunday:
Sunday Brunch at the Loading Dock: Looking for some delicious international food in your neighborhood? Well, the Loading Dock may be perfect for anyone looking to try some new and bold flavors. They have a wide variety of foods and desserts which you should definitely try! When you are done, stroll down Flanders Road to Blair Pond and enjoy the wildlife there, or take your bike on the nearby trail to Alewife Reservation.
Location: 11 Brighton St, Belmont MA 02478, Hours: 6 am – 11 pm
Gifts and Crafts: Want to have something to show for your Staycation? Browse at the consignment shop Revolve (59 Leonard St. or 434 Common Store during the week), or visit Belmont Center's amazing shops like Champions Sporting Goods (53 Leonard St., 617-489-4930), Bells & Whistles (68 Leonard, 617-489-2500), Westcott Mercantile (63 Leonard St. 617-484-0093), or Thirty Petals (34 Leonard, 617-489-2334). Or, you can make your own crafts to bring home at Indigo Fire:
Location: 60 Concord Ave, Belmont MA
Drop-In Crafts:

Clay Hand Building $25
Glass Fusing $13
Pottery Painting $15
The Homer House: Stop by to visit the historic1853 Homer house where theAmerican artist Winslow Homer used to visit his uncle and paint Belmont residents enjoying croquet, strawberry picking, and the beautiful landscape. Enjoy some complimentary lemonade and cookies while experiencing some of Belmont's history and culture. Free for Belmont residents.
Location: 661 Pleasant St, Belmont MA
Times: Sundays 1-3 pm
For more information, check the Homer House Website
El Centro (Mexican Cuisine): Try some new Mexican flavors and tastes at El Centro this summer.
Location: 66 Leonard St, Belmont, MA 02478
Price Range: $11-30
---
Calendar View:
Staycation!
Monday
Tuesday
Wednesday
Thursday
Friday
Saturday
Sunday
Activity #1
Groundwork

Yoga

+

Wellness

Talent Show

(8/23/16)

1:15 pm

Volunteer @Habitat

10am-noon

🌲

Belmont Gallery of

Fine Art

10am-4pm

Everett C. Benton Library
Food Pantry

Loading Dock
Activity #2
Beaver Brook

🌲

Claypit Pond

🌲

Underwood Pool+Park

Farmer's Market

(2-6:30 pm)

🌲

Kitchen on Common
Staycation Picnic!

(8/13/16)

Noon-2 pm

🌲

Indigo Fire, Belmont Center shops
Activity #3
Studio Cinema
Belmont Acres Farm

🌲

Rancatore's Ice Cream

+

Yogurt

Elements Massage, Dove Nails, American Day Spa
Moozy's Yogurt and Ice Cream Emporium
Garden Day

🌲

The 1853 Homer House

1-3 pm

Activity #4
Il Casale
Game Night

(8/16/16)

6:30-8:30 pm

Payson Park Music Festival

(Usually from 6:30 pm)

Claflin Room

@Library

(7-9 pm)

Fresh Pond

🌲

Minuteman Bike Trail (Bike Trip)

🌲

El Centro