Campaign Extended Until June 30.
by John DiCocco
In our November-December 2015 issue, we ran a story by Roger Wrubel, "The Sun Rises for Belmont Solar Customers." (Wrubel is the director of Mass Audubon's Habitat Education Center and Wildlife Sanctuary, and lives in Belmont.) His story focused on the long-running issues that have hindered solar development in Belmont, including policies and objections raised by Belmont Light. He provided information on the benefits of solar and listed several vendors. He also introduced the Belmont Goes Solar campaign to our readers. This is an update.
Let the sun shine in.
Belmont Goes Solar (BGS), the volunteer group helping to implement the community solarization campaign launched last fall, has announced there are more than 172 solar panel installations on Belmont homes as of this writing. According to Roy Epstein, who chaired Belmont's Temporary Net Metering Working Advisory Group (WG), along with Henry D. Jacoby, Stephen Klionsky, and alternate members Tony Barnes and Robert Gallant, "this is one of the most successful programs in Massachusetts."
Speed and light.
It was a campaign that moved extremely fast. The Belmont Municipal Light Board (Light Board), which oversees Belmont Light Department, approved new rates for residential solar hosts in September 2015 and asked the Belmont Energy Committee to initiate the campaign. Several members of the Energy Committee, working with citizen volunteers, Belmont Light, and a consultant, designed a group purchase program where a vendor would bid to offer a discount in return for getting an expected block of business from Belmont property owners. The organizers knew similar programs were successful in several local towns including Arlington, Concord, Wellesley, and Woburn. Several vendors competed and Direct Energy Solar (based in Hopkinton) won the installation contract.
The BGS campaign was launched in January 2016. Through many information sessions, including open houses by current users, and individual consultations, the installer worked directly with BGS to sign on customers. "We needed three critical pieces," Epstein said. "A workable set of rates, a vendor who offered a good discount, and citizens who understood that the investment was economically advantageous and good for the environment. It all fell into place."
Another incentive to buyers is the federal investment tax credit that today reduces the cost of a solar installation by up to 30%. (This incentive is in place until 2021.)
Power to the people.
The program has been so successful that the Light Board had to waive the initial limit of 1,000 kW for total solar capacity recommended by the WG. (Belmont Light desired a lower cap on customer-generated solar.) The limit will be examined again by the Light Board but only after the current campaign ends. As of the beginning of May, sales through the BGS program resulted in more than one megawatt of rooftop solar capacity in the town. Residential installations in Belmont average about five kilowatts but they range from under two to more than ten kilowatts.
Belmont Light serves about 10,000 homes, buying and distributing power from outside sources. The lines into Belmont arrive via the electric substation behind the Alewife T station. Will solar put Belmont Light out of business? Not anytime soon. Many homes don't have optimal configuration for panels; others don't want them or can't afford the upfront cost.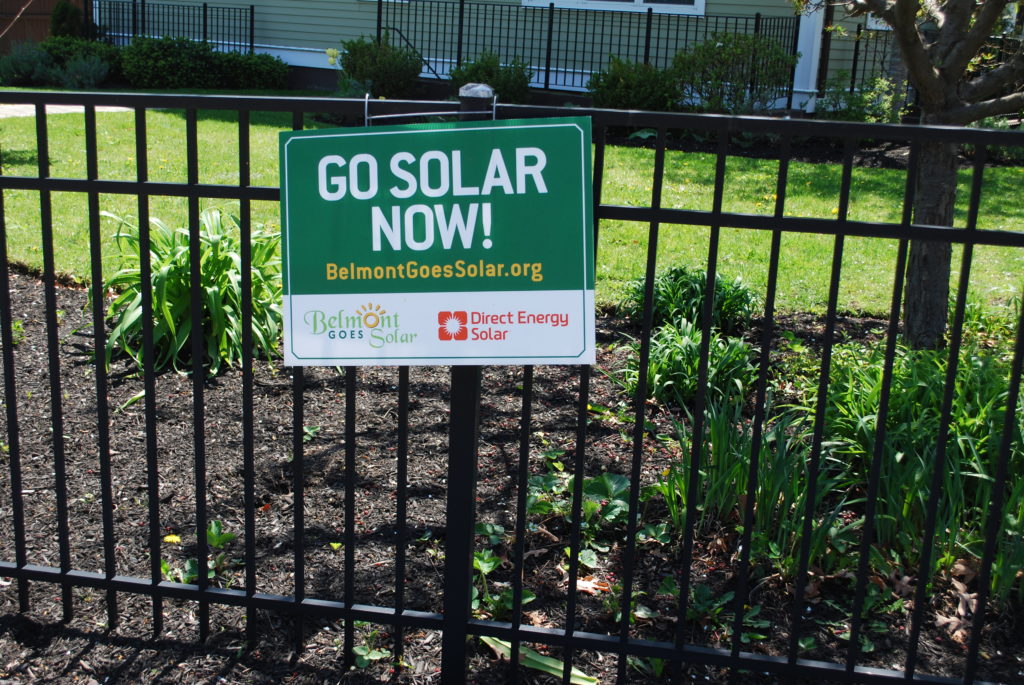 Solar does not (yet) take you off the grid.
When your solar panels are generating electricity you can avoid purchasing some or all of your power from BL. But you still buy power from them when you are not generating enough electricity, for example, on a cloudy day, or at night when the array does not produce any electricity. Even with solar, homes will still need to be connected to the BL system until technology is developed that allows much more efficient and cost-effective storage of surplus power for use during the evening and cloudy days.
At some point, with the storage problem solved and a large enough solar array, consumers may be able to use their own electricity 24/7, disconnecting from the power grid, so they can power an electric car overnight, watch a 96-inch TV guilt-free, and cook, heat, and air condition their home all for free (after paying for all of the necessary equipment). But not quite yet.
Show us the money.
As Wrubel's November article pointed out, the decrease in your electric bill with solar "depends on the proportion of solar energy your home consumes in real time, as it is generated.
The percentage will vary from household to household, depending on factors such as the size of the solar array and daily timing of a household's electricity demand. In general, however, a typical single family home uses about 35% to 40% of a typical installed array in real time, with the remainder flowing out to the grid."
Thus most customers are selling more energy to BL than they are generating and using immediately onsite. The retail rate paid by Belmont consumers is now about 19 cents per kilowatt-hour. Currently, consumers sell surplus generation from their solar arrays back to BL at 11 cents/kW (the buy-back rate). The difference pays for use of the distribution system (the wires within Belmont maintained by Belmont Light). On December 31, 2017, the buy-back rate will be adjusted by the Light Board based on changes in the generation cost of energy.
State money too.
Another financial incentive to install solar is "Solar Renewable Energy Credits (SRECs). A solar host receives one SREC for every megawatthour (1000 kWh) of electricity their solar system produces. The credits are then sold to the profitmaking utilities, such as Eversource and National Grid. The financial benefit of SRECs to the solar host is substantial and makes the payback time for a typical Belmont solar array from five to eight years. After that, your sun power is not only free, it's generating a profit for you.
According to the US Energy Information Administration, in 2014, the average annual electricity consumption for a US residential utility customer was 10,932 kWh, an average of 911 kWh per month. The 2014 average in Massachusetts was 615 kWh per month at 17.39 cents per kWh (an average monthly bill of $106.94). A typical Belmont home today uses about 650 kWh per month, or about $113 per month.
14-17% return on investment.
The WG report estimated that the rate of return to a host on a solar investment in Belmont should be in the range of about 14% to 17%. This reflects the 11-cent buyback price, the SRECs, and the federal and state tax credits for installing a solar array. Bruce Wohl, writing in the February 25, 2016, issue of Commonwealth magazine ("Listen to what's not said about solar"), along with many other excellent points, listed some of the larger economic benefits of solar for the nation: "Solar installations reduce the need for new power plants, avoid the emissions from the plants, and often provide energy at peak demand periods. It's not easy to calculate the economic value of these benefits, but the Acadia Center, an environmental group, took a stab last year. The group estimated that the economic value of solar to the region's power grid ranges from 22 cents a kWh to 26 cents a kWh, and the environmental benefit is worth 6.7 cents a kWh."
Is your home a good candidate?
The output of a solar array is affected by numerous factors including the available roof area, orientation of the home, and shade from trees and neighboring structures. A south-, southeast-, or southwest-facing roof is best for a solar installation (to maximize sun exposure on your roof).
How to sign up (and help the town).
The campaign was slated to end on April 30, but Belmont Goes Solar has extended it until June 30. The installer, Direct Energy Solar, has added a new incentive. If Belmont reaches a total of 200 contracts signed by June 30, the company will cover a three-year lease for an electricpowered vehicle for the town government, one more step in the greening of Belmont. The town has expressed an interest in obtaining an electric van for its Department of Public Works. Belmont Light would match that grant by providing an electric charging station that can be used not only by the town's new vehicle, but by community members as well.
Learn more at BelmontGoesSolar.org