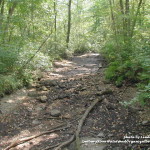 By Dave Rogers
On November 4, 2014, at an event at Habitat here in Belmont, I was honored to receive a Rivers Friend Award from the Massachusetts Rivers Alliance. I received the award for my work supporting increased Massachusetts Department of Environmental Protection (DEP) funding and my successful efforts to protect the rollout of major changes to water supply rules in Massachusetts. Both of these issues are important for those of us concerned about careful environmental stewardship.
Between 2008 and 2012, battered by the decline in state revenue caused by the global recession, funding for DEP was cut dramatically. Although funding levels for the department have recovered somewhat in subsequent budgets, the DEP also suffered fiscal year 2015 cuts. Those cuts have set funding levels back to 20% below 2008, and that is before adjusting for inflation.
These cuts do not tell the whole tale. During the same period, DEP also lost much of its federal funding, particularly thanks to the termination of several grants caused by "sequestration" in 2013. In light of a paralyzed Congress, federal funding cannot be expected to rebound any time soon.
By 2014, DEP staffing levels had dropped from around 1,200 employees to under 800. Key programs required to meet DEP's mandates under the federal Clean Water Act were running at just 30% of optimal staffing levels. Ever-expanding responsibilities will continue to put additional strain on the department. Cuts have already resulted in:
Compromised water quality monitoring
Delayed analysis of air quality, drinking, and recreational water
Reductions in solid waste management
Slippage in meeting EPA grant commitments, potentially interfering with DEP's ability to secure grants in the future
Delays in attaining federal air quality standards
Reduced discovery and assessment of the dangers of leaking underground storage tanks
Already impoverished, DEP is also about to take on the implementation of the Sustainable Water Management Initiative (SWMI), a substantial effort that will further stretch its limited resources.
SWMI is the name for a set of recent changes to water supply permitting under Massachusetts' Water Management Act. The new rules are intended to improve stewardship of our water resources in the Commonwealth, with an emphasis on protecting the drinking water supply and stream flow.
The SWMI process began in 2010 and brought state agencies and advocacy organizations together to craft and implement science-based policies to address immediate and long term problems. The lead environmental nongovernmental organization from this group has been the Massachusetts Rivers Alliance, an umbrella organization with 57 dues-paying members and headed by Belmont's own Julia Blatt.
One out of every five streams in Massachusetts (disproportionally in the east) already experiences unnaturally low flow each summer, with some experiencing no flow whatsoever. The consequences are both environmental and recreational. Recreation is impossible without healthy water flow, while reduced flow can lead to higher water temperatures, low oxygen levels, concentrated pollution, and algal growth. These conditions are disastrous for fish, turtles, and other aquatic wildlife. Low or absent water flow also jeopardizes local water supplies. These problems are all likely to be exacerbated by climate change.
The overarching goal of SWMI was to provide a better balance between human water use and the needs of the environment. Previous DEP regulations allocated the state's water without considering the effect of water withdrawals on the environment.
Armed with new research from the United States Geological Survey and the MA Department of Fish and Game, DEP has categorized each of about 1,400 Massachusetts streams by degree of stream flow alteration. In light of this information, new rules require water users in dry areas to minimize their environmental damage and require substantially more water than in the past to mitigate the new withdrawal amounts. A framework for the new rules was announced in 2012, followed by a pilot series of DEP grants to municipalities to prepare for the new permitting process, new guidance, and finally, new regulations.
Despite these good steps, there are those of us who would like to see SWMI do more. While the new rules protect healthy river basins and minimize impacts in overdrawn basins, they will not be enough to restore some of our driest streams to health. As always, public policy is in part the art of compromise, and SWMI is both a compromise and a solid step in the right direction.
My work to protect and expand DEP administrative funding and SWMI came to a head during the fiscal year 2015 budget debate. Along with Representative Smizik of Brookline, I lobbied in the House for increased DEP funding, making it one of my key requests in meetings with the Chair of Ways and Means. DEP received $647,398 more in the FY2015 budget than in the FY2014 budget, up to $29,003,667 from $28,354,269. This increase of 2.28% marked another incremental step towards restoring funding levels to where they need to be to adequately safeguard our environment.
With respect to SWMI, my advocacy came to fruition at a key moment during budget negotiations. In a meeting with the House Ways and Means Chairman, I advocated that we press forward with SWMI, ultimately prevailing to turn back an amendment offered by then State Representative and now Secretary of Energy and Environmental Affairs Matthew Beaton. Then-Representative Beaton had sought to waylay and possibly jeopardize SWMI's rollout by requiring hearings on this highly negotiated compromise that, as laid out above, had been arrived at by way of an exemplary and thorough process.
As is clear, my work—our work—in this area is far from over. With adequate funding levels, the DEP and the rollout of SWMI can put us in a good position to improve our environmental practices in Massachusetts. Without adequate funding, programs like SWMI will be difficult to develop and harder still to implement.
The retroactive executive cuts to DEP's administrative budget indicate how the environment often finds itself on the chopping block. With more challenging years for our environment coming, we need to take a hard look at our funding priorities at the local, state and federal levels. Our environment bolsters our economy, keeps us safe, and makes Massachusetts a better place for all who live here. As long as I have the privilege to serve, advocating for forward-thinking environmental stewardship will always be a top priority.
Dave Rogers is the Massachusetts state representative for the 24th Middlesex District, which spans Arlington, Belmont, and Cambridge.