Subscribe to our e-mail list today and get the Newsletter electronically!
Than you for a great Lone Tree Hill Volunteer Day!
On a warm, sunny, Saturday, May 9, 30 volunteers arrived at Belmont's Lone Tree Hill conservation land for the Belmont Citizens Forum's third annual Lone Tree Hill Volunteer Day.
They filled 12 garbage bags with trash and 6 boxes of recycling material, and made the place more beautiful.
Under the guidance of New England Mountain Bike Association members, the volunteers helped with erosion control of upper Coal Road. Thank you to Andy Healy, Director of Facilities, McLean Hospital and McLean Hospital for their help with preparation of the work site and the donation of fill for Coal Road
This work day would not have been possible without the generous support of our sponsors.
A Great Big Thanks To All Our Sponsors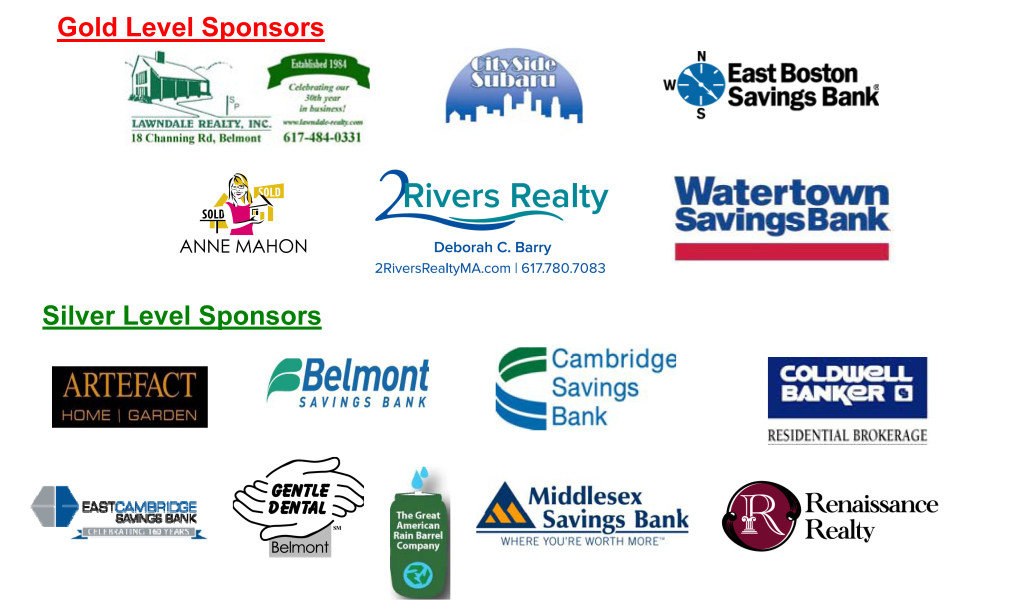 This clean-up event is also cosponsored by these nonprofit organizations: Belmont Land Trust, Judy K. Record Fund, Land Management Committee for Lone Tree Hill, Mass Audubon Habitat Sanctuary, New England Mountain Bike Association, and Sustainable Belmont.
Diverse Habitats
Originally part of the McLean Hospital land, which spanned 240 acres and was designed by Frederick Law Olmstead, the Lone Tree Hill land was deeded to the town by the hospital after it downsized its campus. This land has wonderful and diverse habitats that support a variety of wild life, ranging from hardwood forest and the Pine Allee, to meadows and vernal pools.
In addition to the 88 acres owned by the Town, McLean Hospital holds title to 30 acres of connected publicly accessible land. These combined 120 acres of public open space are protected under two conservation restrictions held by The Trustees of Reservations.
Our Purpose
The Belmont Citizens Forum is a community organization that strives to maintain the small-town atmosphere of Belmont, Massachusetts, by preserving its natural and historical resources, limiting traffic growth, and enhancing pedestrian safety. We accomplish this goal by keeping residents informed about planning and zoning issues, by participating actively in public hearings, and by organizing forums on key subjects.
Our Newsletter
Our bimonthly newsletter provides in-depth coverage of local and regional issues, including environmental protection, historic preservation, economic development, transportation and pedestrian safety, and town planning and zoning.
Please support our work by making a contribution.
Please make check payable to the Belmont Citizens Forum and mail to:
Belmont Citizens Forum
P.O. Box 609
Belmont, MA 02478
Or contribute online by clicking the "donate" button below
(BCF's secure account with PayPal)
Thank you for supporting the Belmont Citizens Forum!
Many companies support employees in their personal philanthropy and fundraising efforts. When you make a donation to the Belmont Citizens Forum, let us know if your employer has a corporate matching gift program. Your donation goes farther with matching funds. Thank you.
Your contributions are tax deductible to the full extent allowed by law. The Belmont Citizens Forum is a 501(c)(3) charitable organization under the Internal Revenue Code.
Support the Belmont Citizens Forum While Shopping at Amazon.com
Did you know you can support us while shopping at AmazonSmile – at no cost to you? The next time you visit Amazon, be sure to designate the Belmont Cititzens Forum as the recipient organization of AmazonSmile's donations. The link can be found here. By doing so, Amazon will donate 0.5% of the price of your eligible AmazonSmile purchases to BCF with no cost to you. Thanks for your support!
Images on this page were created by Belmont residents:
Photos © Susan Jones and © Anne S. Katzeff .