Subscribe to our e-mail list today and get the Newsletter electronically!
Belmont Citizens Forum
3rd Annual Lone Tree Hill Volunteer Day
Rain or Shine!
On Saturday, May 9, from 9 am­–1 pm, the Belmont Citizens Forum is sponsoring our third annual Lone Tree Hill Volunteer Day, and we invite you to participate—rain or shine! We'll do much-needed trash pickup along South Pleasant Street and work on erosion control on the upper Coal Road. Parents accompanying young children are welcome to walk the trails and clip back any protruding branches with hand clippers. We recommend that children under 12 years old be accompanied by an adult. We suggest wearing closed shoes, long sleeves, and long pants to protect against potential sensitivities to plants and insects. Bring gloves, bug spray, hand clippers, and a water bottle.
There are 88 acres of public open space on Belmont Hill. Called Lone Tree Hill, this Belmont Conservation Land is open to all and is stewarded through a public/private partnership by the Town of Belmont and the Land Management Committee along with the nonprofit Judith K. Record Memorial Conservation Fund.
Meet at the green-and-white "Belmont Bikes" Belmont Citizens Forum tent on South Pleasant Street at the Lone Tree Hill Conservation area Coal Road kiosk (K/2 on this map). This is located across the street from the Artefact/Star Market parking lot. The Star Market has generously given us their permission for volunteers to park at the Pleasant Street end of their lot. For details, e-mail us at bcfprogramdirector@gmail.com.
Students Earn Community Service Credits
High school and middle school students can earn community service credits—check in at the Belmont Citizens Forum tent, and make sure we sign off on your work. We recommend that children under the age of 12 be accompanied by an adult. We look forward to seeing you!
A Great Big Thanks To All Our Sponsors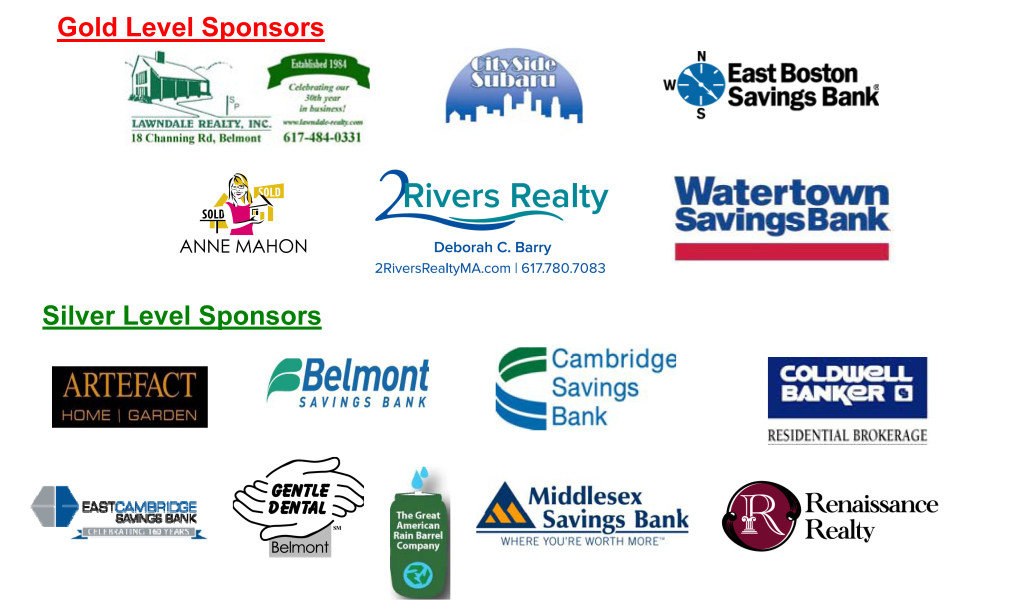 Thank you to all of our sponsors!
At the Gold Level: Anne Mahon Realtor©, Cityside Subaru, East Boston Savings Bank, Lawndale Realty, 2 Rivers Realty MA, Inc., and Watertown Savings Bank.
At the Silver Level: Artefact Home and Garden, Belmont Savings Bank, Cambridge Savings Bank, Coldwell Banker, East Cambridge Savings Bank, Gentle Dental, The Great American Rain Barrel Company, Middlesex Savings Bank, and Renaissance Realty.
This clean-up event is also cosponsored by these nonprofit organizations: Belmont Land Trust, Judy K. Record Fund, Land Management Committee for Lone Tree Hill, Mass Audubon Habitat Sanctuary, New England Mountain Bike Association, and Sustainable Belmont.
Diverse Habitats
Originally part of the McLean Hospital land, which spanned 240 acres and was designed by Frederick Law Olmstead, the Lone Tree Hill land was deeded to the town by the hospital after it downsized its campus. This land has wonderful and diverse habitats that support a variety of wild life, ranging from hardwood forest and the Pine Allee, to meadows and vernal pools.
In addition to the 88 acres owned by the Town, McLean Hospital holds title to 30 acres of connected publicly accessible land. These combined 120 acres of public open space are protected under two conservation restrictions held by The Trustees of Reservations.
Our Purpose
The Belmont Citizens Forum is a community organization that strives to maintain the small-town atmosphere of Belmont, Massachusetts, by preserving its natural and historical resources, limiting traffic growth, and enhancing pedestrian safety. We accomplish this goal by keeping residents informed about planning and zoning issues, by participating actively in public hearings, and by organizing forums on key subjects.
Our Newsletter
Our bimonthly newsletter provides in-depth coverage of local and regional issues, including environmental protection, historic preservation, economic development, transportation and pedestrian safety, and town planning and zoning.
Please support our work by making a contribution.
Please make check payable to the Belmont Citizens Forum and mail to:
Belmont Citizens Forum
P.O. Box 609
Belmont, MA 02478
Or contribute online by clicking the "donate" button below
(BCF's secure account with PayPal)
Thank you for supporting the Belmont Citizens Forum!
Many companies support employees in their personal philanthropy and fundraising efforts. When you make a donation to the Belmont Citizens Forum, let us know if your employer has a corporate matching gift program. Your donation goes farther with matching funds. Thank you.
Your contributions are tax deductible to the full extent allowed by law. The Belmont Citizens Forum is a 501(c)(3) charitable organization under the Internal Revenue Code.
Support the Belmont Citizens Forum While Shopping at Amazon.com
Did you know you can support us while shopping at AmazonSmile – at no cost to you? The next time you visit Amazon, be sure to designate the Belmont Cititzens Forum as the recipient organization of AmazonSmile's donations. The link can be found here. By doing so, Amazon will donate 0.5% of the price of your eligible AmazonSmile purchases to BCF with no cost to you. Thanks for your support!
Images on this page were created by Belmont residents:
Photos © Susan Jones and © Anne S. Katzeff .