Subscribe to our e-mail list today and get the Newsletter electronically.
Belmont "Staycation" Needs Your Input
by Shodai Inose
In order to reduce our carbon footprint, the Belmont Citizens Forum is creating a Belmont "Staycation," a vacation in our own town which will be safer for the environment and your wallet.
As a summer intern at BCF, I'm collecting ideas to create family­ friendly and fun experiences, and I need your help. Do you know of any locations (preferably in Belmont) that you think people would enjoy? Are there any local businesses you would like to share with the rest of the community? How does a family like yours spend time in town?
We're looking for anything enjoyable to do here without breaking your wallet or the environment. Any input would be very beneficial to the project, and we hope you will be a part of this adventure. Traditional vacations can cost hundreds or thousands of dollars, with air travel resulting in the usage of massive amounts of fuel. For example, a Boeing 747 plane burns around one gallon of fuel every second, meaning a t­en-hour flight will use 36,000 gallons of fuel.1  Help us reduce the carbon footprint of Belmont residents for years to come by contacting us.
To participate in an online poll about staycationing, click here. Also, I would like to interview anyone interested in this project to discuss their usual summer plans and how they could be persuaded to have a "Staycation" instead. Contact me at belmontstaycation@gmail.com
1 http://science.howstuffworks.com/transport/flight/modern/question192.htm
Thank you: Lone Tree Hill Cleanup A Success.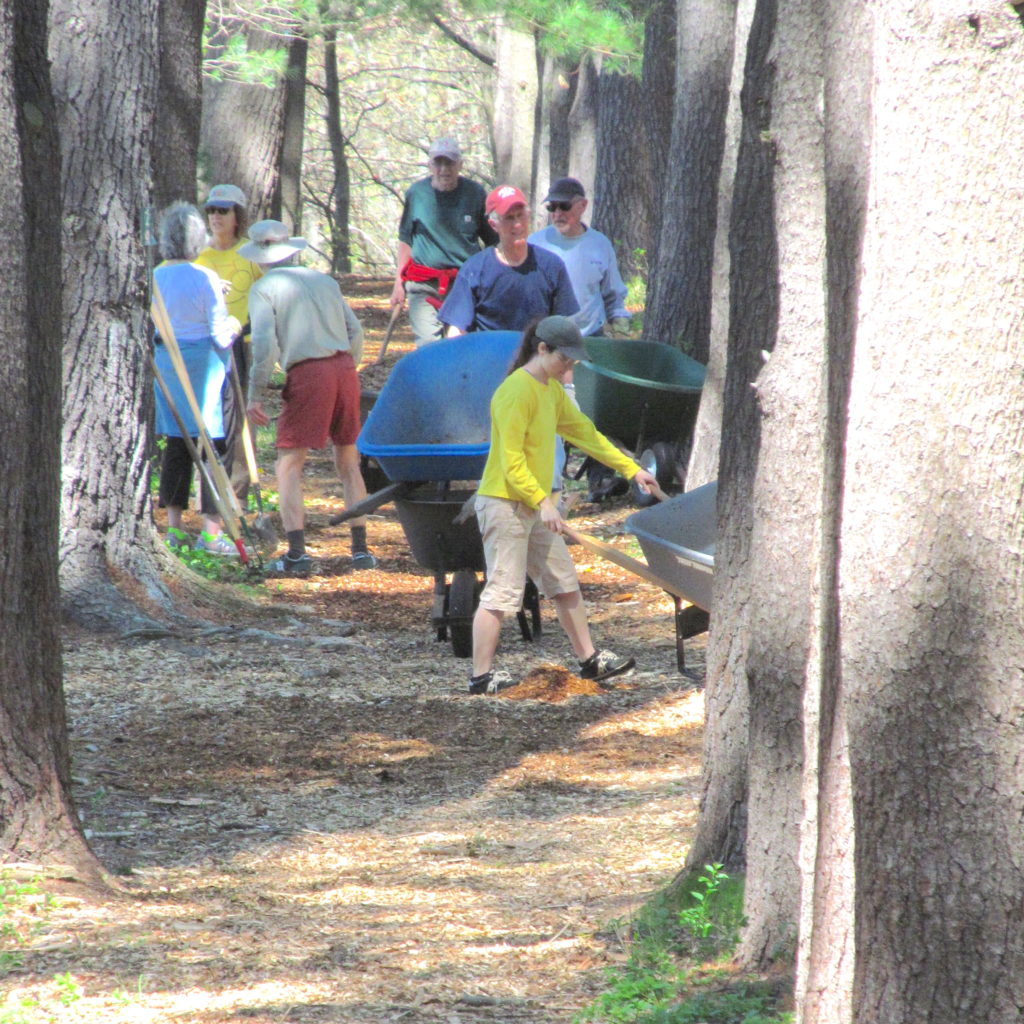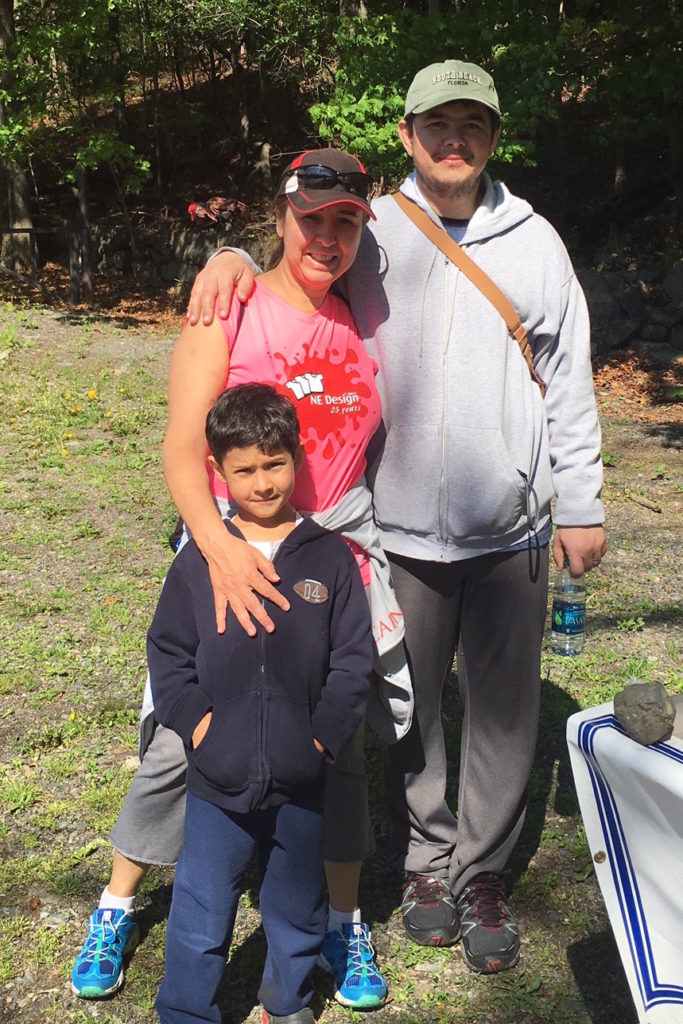 Volunteers at Lone Tree Hill Stewardship Day, top: a crew added wood chips to the Pine Allee Trail. Bottom: the DeRosa family, out on a walk, decided to stop in and help out. /David Chase, Evanthia Malliris photos
The Belmont Citizens Forum extends our thanks to the enthusiastic volunteers who turned out last Saturday, May 13, on a gorgeous sunny day to work on the Lone Tree Hill Conversation Land. Toting bright orange buckets and grabbers, they collected twelve large bags of trash and two boxes of recyclables at the Pleasant Street end of the property. At the other end of the property, volunteers hauled wheelbarrows full of wood chips along the entire length of the Pine Allee, raking it into place to help prevent soil erosion, and making it more comfortable to walk on.
This was our fourth annual clean up event, and we are grateful to all those who supported our effort. Our Gold Level sponsors: Ann Mahon Realty, Cityside Subaru, and Watertown Savings Bank. Our Silver Level Sponsors: Alchemy 9-2-5; Artefact Home and Garden, Belmont Savings Bank, Cambridge Savings Bank, Century 21 Adams Lawndale, Coldwell Banker, East Boston Saving Bank, Middlesex Savings Bank, Renaissance Realty, and Vintages. Our community co-sponsors include: Belmont Land Trust, Belmont Land Management Committee for Lone Tree Hill, Judith K. Record Memorial Conservation Fund, Mass Audubon Habitat Sanctuary, and Sustainable Belmont.
A special thanks to David Ropes, Tree Specialist Inc., for donating the ample hills of wood chips that were used along the Pine Allee; to Roger Wrubel, Habitat Director, for lending us shovels and rakes; and to Michael Santoro, Department Public Works, Highway Division Manager, and his department for picking up the trash.
Watch for news about the next Belmont Citizens Forum community event. Visit belmontcitizensforum.org to keep up to date on our activities and to read our bimonthly Newsletter.
—The Belmont Citizens Forum Board of Directors
Poetry in the Pines.
Our Purpose
The Belmont Citizens Forum is a community organization that strives to maintain the small-town atmosphere of Belmont, Massachusetts, by preserving its natural and historical resources, limiting traffic growth, and enhancing pedestrian safety. We accomplish this goal by keeping residents informed about planning and zoning issues, by participating actively in public hearings, and by organizing forums on key subjects.
Our Newsletter
Our bimonthly newsletter provides in-depth coverage of local and regional issues, including environmental protection, historic preservation, economic development, transportation and pedestrian safety, and town planning and zoning.
Please support our work by making a contribution.
Please make check payable to the Belmont Citizens Forum and mail to:
Belmont Citizens Forum
P.O. Box 609
Belmont, MA 02478
Or contribute online by clicking the "donate" button below
(BCF's secure account with PayPal)
Thank you for supporting the Belmont Citizens Forum!
Many companies support employees in their personal philanthropy and fundraising efforts. When you make a donation to the Belmont Citizens Forum, let us know if your employer has a corporate matching gift program. Your donation goes farther with matching funds. Thank you.
Your contributions are tax deductible to the full extent allowed by law. The Belmont Citizens Forum is a 501(c)(3) charitable organization under the Internal Revenue Code.
Support the Belmont Citizens Forum While Shopping at Amazon.com
Did you know you can support us while shopping at AmazonSmile – at no cost to you? The next time you visit Amazon, be sure to designate the Belmont Cititzens Forum as the recipient organization of AmazonSmile's donations. The link can be found here. By doing so, Amazon will donate 0.5% of the price of your eligible AmazonSmile purchases to BCF with no cost to you. Thanks for your support!
Images on this page were created by Belmont residents:
Photos © Susan Jones and © Anne S. Katzeff .