Subscribe to our e-mail list today and get the Newsletter electronically.
---
Thanks to all who joined us for the Staycation Picnic August 13! 
We had great weather and fun times by Wellington Station.              Our Thanks to:
Groundwork Yoga for hosting outdoor yoga and contributing a free yoga class as a Staycation Raffle prize!
Champions Sporting Goods store for donating a "Belmont Rocks" shirt as a Staycation Raffle prize!
Belmont Historical Society for opening Wellington Station for tours, including an 1899 railroad schedule for "Summer Excursions" on the Fitchburg railroad!
Belmont Media Center volunteer videographers for recording the event!
Belmont Citizens Forum volunteers for helping with set up and cleanup.
Over 40 participants who relaxed and enjoyed croquet, soccer, popsicles, yoga, and stories at this first annual picnic!
We are also grateful to the Belmont Citizen-Herald and Belmontonian for covering Belmont Staycation 2016, a program which will continue through the end of August. Check the Belmont Staycation page  for more details about the seven prizes announced at today's picnic, and eligibility for the raffle drawing September 3.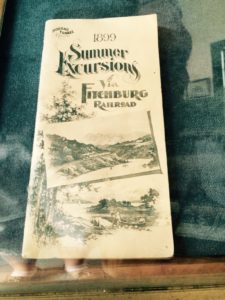 ---
Our Purpose
The Belmont Citizens Forum is a community organization that strives to maintain the small-town atmosphere of Belmont, Massachusetts, by preserving its natural and historical resources, limiting traffic growth, and enhancing pedestrian safety. We accomplish this goal by keeping residents informed about planning and zoning issues, by participating actively in public hearings, and by organizing forums on key subjects.
Our Newsletter
Our bimonthly newsletter provides in-depth coverage of local and regional issues, including environmental protection, historic preservation, economic development, transportation and pedestrian safety, and town planning and zoning.
Please support our work by making a contribution.
Please make check payable to the Belmont Citizens Forum and mail to:
Belmont Citizens Forum
P.O. Box 609
Belmont, MA 02478
Or contribute online by clicking the "donate" button below
(BCF's secure account with PayPal)
Thank you for supporting the Belmont Citizens Forum!
Many companies support employees in their personal philanthropy and fundraising efforts. When you make a donation to the Belmont Citizens Forum, let us know if your employer has a corporate matching gift program. Your donation goes farther with matching funds. Thank you.
Your contributions are tax deductible to the full extent allowed by law. The Belmont Citizens Forum is a 501(c)(3) charitable organization under the Internal Revenue Code.
Support the Belmont Citizens Forum While Shopping at Amazon.com
Did you know you can support us while shopping at AmazonSmile – at no cost to you? The next time you visit Amazon, be sure to designate the Belmont Cititzens Forum as the recipient organization of AmazonSmile's donations. The link can be found here. By doing so, Amazon will donate 0.5% of the price of your eligible AmazonSmile purchases to BCF with no cost to you. Thanks for your support!
Images on this page were created by Belmont residents:
Photos © Susan Jones and © Anne S. Katzeff .