Subscribe to our e-mail list today and get the Newsletter electronically!
Thank You For a Great "Water Trouble" Forum 
"According to the Environmental Protection Agency, Belmont's municipal stormwater system has been in "significant violation" of the Clean Water Act for the last three years, based on bacteria levels recorded at storm-drain outfalls. Belmont is currently the only municipality in Greater Boston under such a warning." Boston Globe, 8/16/2015
The Belmont Citizens Forum  held a free, public, educational forum on stormwater called Water Trouble: A Neighbor-to-Neighbor Dialogue about Storms, Floods, and Water Quality, on September 10. Read the Belmont Citizens Forum Newsletter article about the Forum.
Thanks To Our Corporate Sponsors and Community Cosponsors
We'd like to thank our Corporate Sponsors for supporting this event: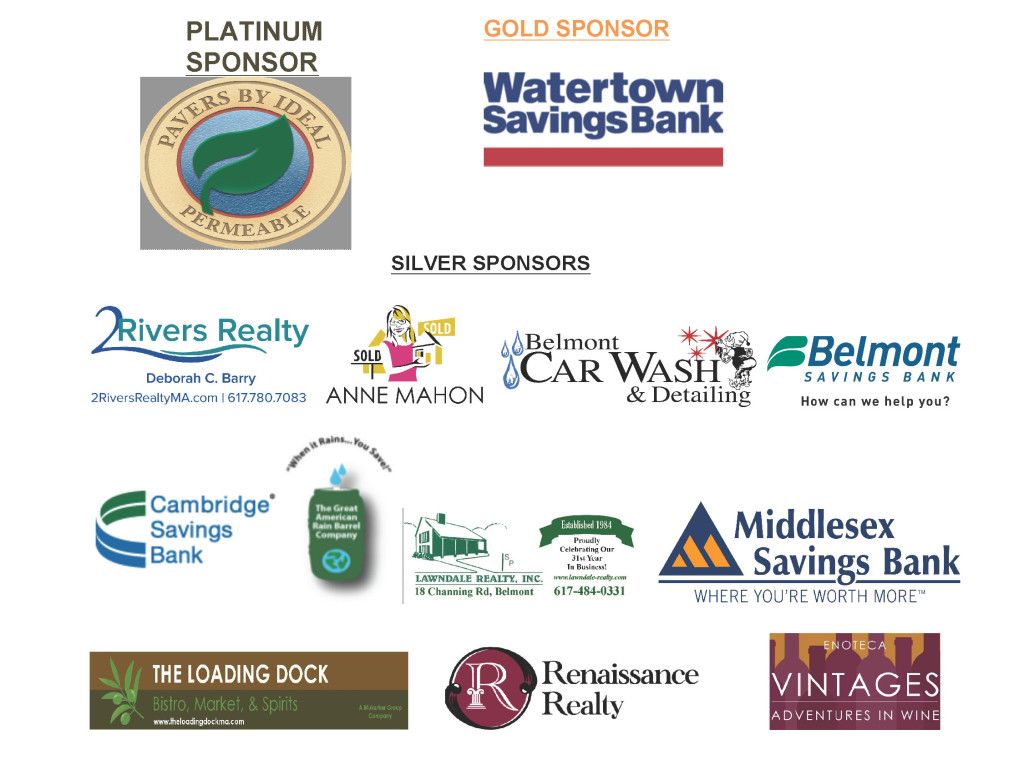 Our community cosponsors include:
Arlington Land Trust, Arlington Tree Committee, Belmont Stormwater Working Group, Coalition to Save the Mugar Wetlands, Friends of Spy Pond Park, Mystic River Watershed Association, Sustainable Arlington, Sustainable Belmont, Sustainable Watertown, Trees for Watertown, Watertown Citizens for Peace, Justice, and the Environment. Some of these organizations will have educational tables at the Stormwater Forum.
Our Purpose
The Belmont Citizens Forum is a community organization that strives to maintain the small-town atmosphere of Belmont, Massachusetts, by preserving its natural and historical resources, limiting traffic growth, and enhancing pedestrian safety. We accomplish this goal by keeping residents informed about planning and zoning issues, by participating actively in public hearings, and by organizing forums on key subjects.
Our Newsletter
Our bimonthly newsletter provides in-depth coverage of local and regional issues, including environmental protection, historic preservation, economic development, transportation and pedestrian safety, and town planning and zoning.
Please support our work by making a contribution.
Please make check payable to the Belmont Citizens Forum and mail to:
Belmont Citizens Forum
P.O. Box 609
Belmont, MA 02478
Or contribute online by clicking the "donate" button below
(BCF's secure account with PayPal)
Thank you for supporting the Belmont Citizens Forum!
Many companies support employees in their personal philanthropy and fundraising efforts. When you make a donation to the Belmont Citizens Forum, let us know if your employer has a corporate matching gift program. Your donation goes farther with matching funds. Thank you.
Your contributions are tax deductible to the full extent allowed by law. The Belmont Citizens Forum is a 501(c)(3) charitable organization under the Internal Revenue Code.
Support the Belmont Citizens Forum While Shopping at Amazon.com
Did you know you can support us while shopping at AmazonSmile – at no cost to you? The next time you visit Amazon, be sure to designate the Belmont Cititzens Forum as the recipient organization of AmazonSmile's donations. The link can be found here. By doing so, Amazon will donate 0.5% of the price of your eligible AmazonSmile purchases to BCF with no cost to you. Thanks for your support!
Images on this page were created by Belmont residents:
Photos © Susan Jones and © Anne S. Katzeff .