Here are some of the projects we are working on. Please join us, get involved.
Community Path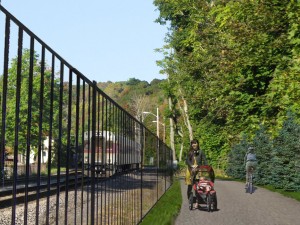 An illustration of how the proposed bike path might look. Click on the illustration for a full size image.
Courtesy Crosby Schlessinger Smallridge
BELMONT CITIZENS FORUM ACQUIRES LAND FOR WAYSIDE RAIL TRAIL
Would complete community path from Belmont Center to Alewife station
The Belmont Citizens Forum has acquired a 30 foot wide strip of land adjacent to the commuter rail tracks behind Channing Road which it proposes to dedicate ultimately for use as a public right-of-way for a shared-use bicycle and pedestrian path from Belmont Center. An enlarged and improved community path from Brighton Street to the Alewife T station has already been constructed and will be open to the public in 2013.
The proposed Channing Road stretch of path would provide an easy and safe corridor for pedestrians and bicyclists, without motor vehicle traffic, for a distance of approximately two miles from Belmont Center to Alewife. The MBTA has increased its support of bicycle transportation at Alewife by its recent construction of secure, locked bicycle cages for use by cyclists arriving at the station to use the T. Alewife is also now the intersection point for both the Minuteman Trail from Arlington/Lexington and the new community path connecting from Brighton Street at Belmont's easterly border.
Establishment of a community path from Belmont Center to Brighton Street would allow a significant number of Belmont residents to reduce their use of cars, save on gas, get some exercise, and help clean the air. With the use of secure fencing, increased access for law enforcement, and improved landscaping along the path, the proposed community path from Belmont Center should be able to respond to security and privacy concerns from residents. Input and feedback from Channing Road residents and the broader Winn Brook and Belmont community will be part of the process for evaluating both the benefits and issues relating to the proposed new path.
Improving bicycle and pedestrian access fits squarely within the Citizens Forum mission to limit traffic and preserve Belmont's natural and historical resources. The Citizens Forum's first public forum, on Nov. 16, 2000, was about traffic management, as was last fall's November forum. The Citizens Forum's first donation to the town was $2,500 for five model crosswalks to improve pedestrian safety. Now those international-style crosswalks have been adopted as standard practice for Belmont. The Citizens Forum hopes this bike and pedestrian path will also lead to a town-wide policy to promote a greater number of safe pathways for walking and biking.
The proposed rail trail through Belmont is a segment of the long-planned Wayside Rail Trail, a 26-mile shared-use trail from Boston to Berlin, passing though Somerville, Cambridge, Belmont, Waltham, Weston, Wayland, Sudbury, Hudson, and Berlin, along the right of way of the former Massachusetts Central Railroad. The Wayside Rail Trail in turn is the eastern segment of the planned Mass Central Rail Trail, which will run from Boston to Northampton, covering a distance of 104 miles.
A community path friends group is organizing to help work on making the community path a reality. To join it, e-mail bcfprogramdirector@gmail.com,  or write the Belmont Citizens Forum at PO Box 609, Belmont, MA 02478.