The Sources of Belmont Utilities
by Virginia Jordan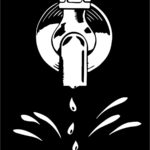 In the US, most of us take our water and other utilities for granted. But how are they delivered to Belmont residents, and who is responsible for keeping them flowing?
Utility companies supply our electricity, gas, water, telephone, cable, internet, and wireless. Some are supplied by corporations like National Grid or Eversource (formerly NStar.) These private electricity and gas providers, also known as investor-owned utilities, are regulated by various state and federal agencies. Other utilities are supplied by the Water Division of Belmont's Department of Public Works  (DPW) and the Belmont Light Department. These are publicly owned utilities subject to local public control and regulation.
Water and Electric Power for Belmont
Belmont was incorporated in 1859 and began providing for a public water supply in 1885. Belmont's water today comes from the Quabbin Reservoir, about 65 miles west of Boston, and the Wachusett Reservoir, about 35 miles west of Boston. These reservoirs supply wholesale water to local water departments in 51 communities.
Each resident's Belmont water bill includes charges based on actual water usage, plus sewer charges for the sanitary sewer system. No one is billed directly for the stormwater drain system. All three systems (water mains, sewer lines, and stormwater drains) are maintained, repaired, and constructed by the town, although each by a different department.
Residents' electric bills include only electricity. Belmont Light, established in 1896, is legally organized as a municipal light plant and governed by a set of century-old state rules. Belmont Light owns distribution lines but not generation plants; it buys electric power from various sources and distributes it within the town.
Financially, Belmont's water and electric utilities are both enterprise funds, a way for the town to separate these business-type activities from regular tax-based revenue.
Becca Keane, energy resources analyst for Belmont Light, explained the sources of Belmont's electric power. "For 2017, 20 percent of our power supply mix comes from direct, specified contracts with suppliers based in New England. This is the 20 percent that we can easily describe: 12 percent is hydro from Maine and New York, 7 percent is wind from Maine, and 1 percent is solar from western Massachusetts. . . . We are actively pursuing a plan to increase the amounts of renewables in Belmont's portfolio so that we can decisively match or exceed state-mandated renewables levels.
"A small but increasing percentage of our portfolio comes from rooftop solar generated by residents right here in Belmont. In the recent past, this has amounted to less than 1 percent of our resource mix. For 2016, rooftop solar generated by residents and businesses in Belmont made up 0.41 percent of our portfolio (approximately 505 MWh)."
The other 79 to 80 percent of the portfolio corresponds to the average fuel mix for New England's grid.
Enterprise Funds
Financially, Belmont's water and electric utilities are both enterprise funds, a way for the town to separate these business-type activities from regular tax-based revenue. User fees for water and electricity pay the utilities' operating costs. Last year the user fees received by the water, sewer, and electric light enterprise funds were $6.2 million, $8.4 million, and $26.1 million, respectively. Town treasurer Floyd S. Carmen oversees the enterprise funds, as he does all other town investments, cash management, and revenue collection. A breakdown of income and expenses is available in the Belmont Annual Report on the town website.
Operations—Water
The Water Division handles the town's water distribution system. Division manager Michael R. Bishop and operations manager Mark Mancuso are in charge of 93 miles of water main pipes, 2,743 gate valves, 742 fire hydrants, and about 7,670 individual water service pipes to buildings. The latest water main improvements were just completed on Winter Street.
They also see to it that the quality of drinking water complies with the US Environmental Protection Agency Safe Drinking Water Act, and with regulations of the Massachusetts Department of Environmental Protection.
Belmont is part of the Massachusetts Water Resources Authority (MWRA). In the dry summer of 2016, when levels at the Quabbin and Wachusett reservoirs dropped below normal, the MWRA urged water conservation, while assuring us supplies were adequate.
The Water Division is overseen by the Water Advisory Board. The three-person policy committee is appointed by the Board of Selectmen to advise the town on water management and infrastructure investment.
Operations—Sewer and Stormwater
No town department name contains the word "sewer." Rather, the Highway Division of DPW is responsible for sewer maintenance, repair, and construction. Division manager Michael A. Santoro and operations manager Rick Bemis are in charge of the sanitary sewers, with 76 miles of main lines, 6,700 service lines to buildings on public and private ways, and three pumping stations. They also are in charge of the storm drain system, consisting of another 54 miles of main lines, 2,000 catch basins, and one pumping station.
Drinking water has to be safe for humans, and stormwater discharges aren't supposed to harm the environment. Belmont is designated as an urban area and is regulated by the EPA's National Pollutant Discharge Elimination System stormwater program. Town engineer Glenn Clancy implements the stormwater management program.
No equivalent to the Water Advisory Board exists for sewers. The town's Office of Community Development has authority over stormwater and sewers.
Operations—Electric
Why is the electric department organized differently? Historically, streetlights were the first major use for electricity. Since they were paid for by the municipality, it was in the town's interest to own and control the electric utility. Massachusetts enabled the formation of municipal light plants in 1891; Belmont authorized its plant in 1896 and acquired the original distribution system in 1898.
It used to be that in quiet, sleepy Belmont, you could still go pay your electric bill in person at any hour. Even in the middle of the night, a person was awake at the substation to accept your check with a nod and return to his monitoring.
Infrastructure and Capital Projects
Responsibility for the capital projects for water and sewer also falls into different departments, but not in the same way as operations. While operations are divided between DPW Water and DPW Highway, long-term capital projects are divided between DPW Water and Community Development for sewer: capital expenditures for water mains are in the DPW budget; sewer capital projects and storm drain repairs are in the Community Development budget.
Requests that are to be funded by the town's enterprise funds are submitted directly to the Capital Budget Committee for recommendation to Town Meeting.
Funding
Capital expenditures for water and sewers projects, equipment, and upkeep are funded by the enterprise funds generated from user fees, but also by appropriations from the town general fund.
To learn more about any of Belmont's town services, visit http://bit.ly/2w32xNQ
Virginia Jordan is a member of the Belmont Citizens Forum Newsletter Committee.