A Cleaner Town, One Driveway at a Time
by Madeleine Barr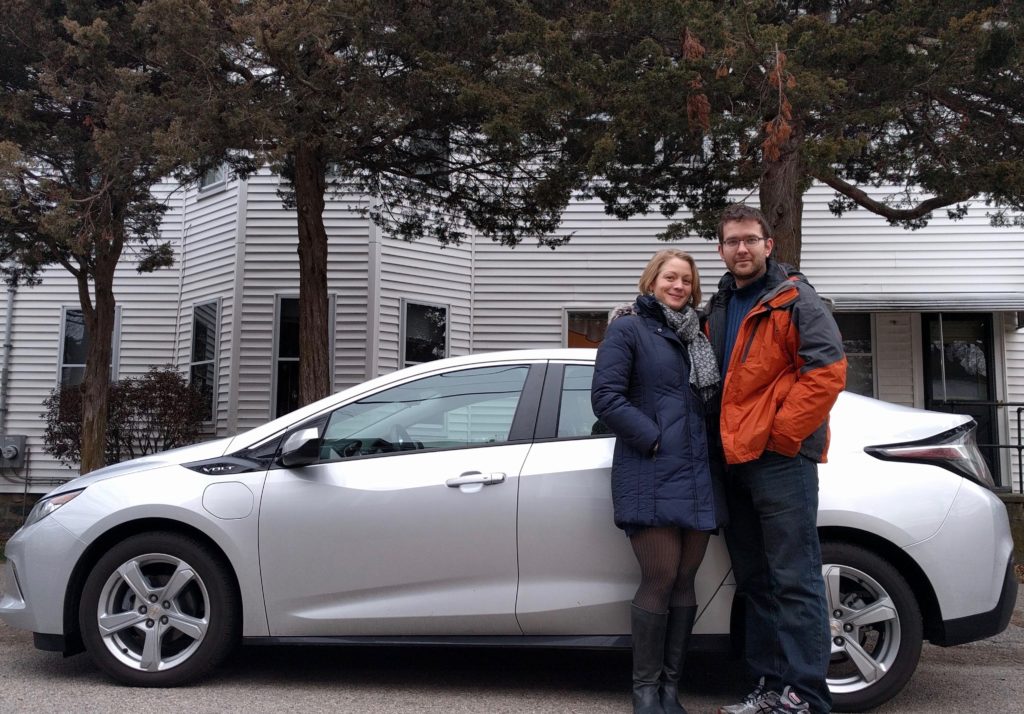 Lara Hirner and Jason Reed, the first Belmont residents to purchase an EV through the Belmont Drives Electric program, with their new Chevrolet Volt.
Join the movement.
Belmont is one of the top five towns in Massachusetts for electric vehicle adoption.
Belmont Drives Electric (BDE) is a community initiative launched in October 2016 designed to highlight the benefits of driving electric vehicles (EVs) and make it easy for you to get behind the wheel. Through this initiative, Belmont residents in cooperation with several local dealers have taken test drives and moved forward with a lease or purchase of an EV.
Below is an interview with Jason Reed and Lara Hirner, the first Belmont residents to purchase an EV through this program.
What kind of car do you drive?
We have a 2017 Chevy Volt.
What inspired you to get an electric vehicle?
We wanted an electric car because we're very environmentally conscious and decided it was finally time to put our money where our mouth was with our vehicle. Our previous car was 27 years old. We have a Tesla Model 3 reserved but won't get it for another two years or so. We heard about the BDE program and decided to check it out to see if there wasn't an option for us to fill in the time to the Tesla with a more environmentally friendly car.
What is your favorite aspect of driving an EV?
What isn't our favorite part? Fluid gearless acceleration, freakishly quiet, almost never visiting gas stations anymore. But perhaps the best and most unexpected benefit is that our driving mindset has transitioned from 'how fast can I get there?' to 'how efficiently can I get there?' Driving is now a more mindful experience and previous impatience has been replaced with a sense of calm.
How long have you lived in Belmont?
We're new to Belmont (we moved from Somerville) but love the sense of community. The electric car program has certainly been a part of that. Plus Belmont is close enough to the city for a decent commute but far enough out to give us more space and a yard with a great neighborhood.
How likely are you to recommend Belmont Drives Electric to a friend or relative?
Very likely. In fact, we've already told many friends (some Belmont residents) about the program.
Learn more
As of December 30, 2016, there were 53 electric vehicles in Belmont, and 10 of those were newly purchased since the BDE program launched in October, 2016.
If you want to learn more or get behind the wheel of an EV for a test drive, please visit BelmontDrivesElectric.org.
Madeleine Barr is the community outreach manager at Sagewell, Inc., a consulting partner of Belmont Light on energy-saving projects.