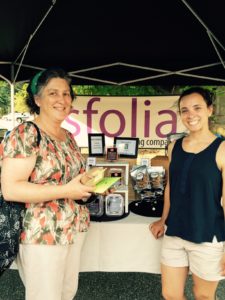 This is a postcard from my trial Staycation in July —  Check out the shorter postcards on our Facebook page, and post your own there!
Hi,
Today I was really looking forward to visiting two old favorites:
Belmont Farmer's Market: I picked up some salad fixings from several different vendors, enjoyed cheese offered at State Senator Will Brownsberger's table, and listened to a brass band.  I chatted with the manager and a couple of neighbors.  I heard vendors talking about the drought.  I always feel a sense of community at the Farmer's Market, as well as a greater connection with the land. That said, I did also drift over to Sfolia Baking Company's booth and picked up some flatbread crackers. This Belmont businesswoman's mother was handling sales while her daughter picked up some fish from another booth. When the owner returned, the Market manager took a photo!
Habitat: I decided on a short walk around Turtle Pond, where I again saw the effects of the drought.  I saw several big turtles and both big and little frogs in the mud around the edge of the pond; it was just about as low as I've ever seen it. Then the bull frogs started to get alarmingly noisy!  I stayed in one spot for a long time and eventually sighted a pair of large birds hopping up in the tall branches on the island — I think they were flickers.  I also enjoyed the peaceful chatter of two young boys and their mother speaking in what I think was Russian as they watched a particularly big turtle plodding and swimming about.  It made me think how universal a pleasure it is to enjoy a beautiful spot in nature.
Based on a lecture I attended in April about the history of the Habitat and how it was the vision of Belmont's Elisha Atkins and his mother which resulted in its preservation as an Audubon nature sanctuary, I think I'll allow myself to check off the history box on my passport!
Anne-Marie