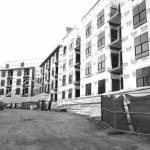 By Anne-Marie Lambert
The first red-winged blackbirds now returning to the fields by Little River may not think much of the "wildlife habitat replication area" alongside the newly constructed buildings at the Uplands.
This newly seeded replication area sits between the former Little River, now a large drainage ditch next to Frontage Road, and one of the four-story Tyvek-wrapped buildings that comprise The Royal, formerly named The Residences at Acorn Park. In a contested 2014 ruling, the Massachusetts Superior Court determined that this replication area (next to what amounts to a Route 2 drainage ditch running under Acorn Park Drive) will suit the birds and beasts of this area adequately and in accordance with the Wetlands Protection Act. The replication area is some distance from the remaining forest and wetlands habitat at the rear of the site. It's doubtful a beaver that took up residence on today's Little River would find it.
According to the affordable unit application for residence at The Royal, the first units are expected to be ready for occupancy in June/July/August 2016.
The habitat replication area is some distance from the remaining forest and wetlands at the rear of the site.
Approximately 220 applications were submitted for residence in one of the 60 affordable units before the February 25 deadline. A lottery scheduled for March 15 will select winners from among those qualified. Maximum annual household income limits for applying were $34,500 (1 person), $39,400 (2 people), $44,350 (4 people), $53,200 (5 people), and $57,150 (6 people), with preference for Belmont residents, employees, and families with students in the Belmont public schools. Expected annual household incomes and rents for the various size units are shown below:
| | | |
| --- | --- | --- |
| |   Rents (w/out utilities) | Expected annual household income |
| Studio | $747 | $22,410 |
| 1 Bedroom | $770 | $23,000 |
| 2 Bedroom | $899 | $26,970 |
| 3 Bedroom | $1024 | $30,720 |
In addition to many building construction tasks, an occupancy permit requires completion of underground stormwater and sewage storage tanks, utility work routed around Little Pond, traffic mitigation measures on intersections such as Brighton Street at Lake Street, arrangements to truck out sewage for two weeks in case of severe flooding, and environmental improvements such as invasive species removal.
Environmental monitoring reports by Epsilon Associates are submitted on a monthly basis to the Department of Environmental Protection (DEP), providing results and photographs from weekly inspections regarding compliance with regulations affecting construction. The Belmont Conservation Commission also receives a copy, though their authority was superseded by the DEP during legal disputes in 2014.
A drive to this edge of Belmont reveals that the three buildings under construction now dominate the landscape at the intersection of Frontage Road and Acorn Park Drive. Foundations for the remaining two buildings have recently been poured next to the muddy fire path behind the building site. The former ice rink site across the street from Frontage Road continues to be used by the Massachusetts Department of Conservation and Recreation (DCR) for the storage of soil and construction vehicles associated with DCR projects in the area, as it has been for about 10 years. The long-term plan is for the rink site to be returned to a natural forested state. Other construction nearby includes new Bulfinch buildings at the Cambridge end of Acorn Park Drive, and Route 2 stormwater mitigation measures underway by the Massachusetts Department of Transportation.
Plants, birds, and animals already experienced a major habitat change in October 2014 with the removal of six acres of private forest from the building site. If all goes according to plan, by October 2016 new residents in the 298 units, as well as Route 2 commuters, downstream neighbors, and Belmont service providers such as the School Department, Fire Department, and Department of Public Works will all notice habitat changes of a different kind. While the unexpected discovery of a glacial kame of fine sand under much of the construction site will provide better drainage than originally anticipated, it remains unclear whether stormwater management plans based on 1958 precipitation data will be sufficient to handle increasingly intense storms and minimize downstream flooding.
It is also unclear whether the new residents will rely more on the MBTA rather than cars, whether new traffic lights will have an appreciable effect on the already congested streets nearby, and whether Belmont's emergency vehicles will need a boat to reach the site during rush-hour congestion.
Anne-Marie Lambert is a director of the Belmont Citizens Forum.