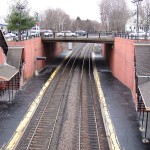 To the Editor:
My first encounter with Belmont was commuting to Belmont Center from North Station as a co-op student working on a census project. In the 70's it was the most convenient way to reach Belmont without a car. One of the things I loved about the commute was the Belmont Center train station, which is now the Lion's Club. The elimination of station buildings like Belmont Center has been part of a cultural shift as well as a simple reaction to the economics of staffing and maintenance.
Since this comfortable station building has been closed, more often commuters will wait outside in weather for the train to approach. You could say that the romance of the public space has been lost with the easy access to automobiles.
At one time people from local neighborhoods might walk to the station, pick up the paper, and get on the train—a car was not required. Today many commuters are looking to drive a car to the train and park for less money than they would pay downtown. In earlier times the emphasis was on economic necessity, whereas today the emphasis is on convenience. If we had a historic train station lobby today, it might not see much use unless there were a coffee shop in the lobby!
But I miss that old lobby. Both the Belmont Center and Waverley stations are unappealing from a customer perspective. At Waverley we climb down below the level of the road into a very harsh concrete and asphalt platform. At Belmont Center the level of the track is above the road, where the platform is exposed to the weather. Both seem like an afterthought, not a welcoming experience, and climbing up to the train car can be a challenge as well.
Waverley has many benefits. It has a great connection to the bus, it has better parking than Belmont Center, and yet it is not well used. Clearly it is not worth changing the stations unless the situation can be improved, and we will have to listen to the needs of modern commuters.
To that end my preference would be a single station located on Pleasant Street, with at least 50 parking spaces, and clearly designated bike and walking paths to both Belmont Center and Waverley Square. And there should be a nice heated waiting area with a local coffee shop.
We should do everything we can to encourage commuters to use this resource, and solve the difficult walking conditions on Pleasant Street from Star Market to Belmont Center. Moving the station would also reduce the Balkanized parking confusion in Belmont Center.
So… we can have a pleasant station on Pleasant street!
Kindly,
Rich Snow
Harriet Ave., Belmont