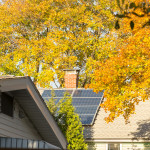 By Alix van Geel
The shortest days of the season have passed, and now is the perfect time to consider adding solar to your Belmont home or business. For a limited time through April 30, 2016, Belmontians can take advantage of discount pricing for solar rooftop panels to provide electricity, thanks to Belmont Goes Solar.
Belmont Goes Solar is a group of volunteers working to expand small-scale solar energy installations in town. Belmont Goes Solar is supported by the Board of Selectmen and includes members of the Belmont Energy Committee, Sustainable Belmont, Mothers Out Front, and Belmont Light. The group's goal is to achieve 100 solar installations in Belmont in 2016.
The Belmont Goes Solar team is dedicated to making installing solar panels as easy and as inexpensive as possible. Many companies are willing to sell or lease solar panels, but it can be difficult to evaluate the options. Equipment type and quality, pricing, warranties, and finding a company that can stand behind its work, are all important. To help residents and businesses navigate these issues, Belmont Goes Solar conducted its own research, soliciting competing proposals from multiple vendors and interviewing the strongest candidates. Direct Energy Solar was chosen as Belmont Goes Solar's partner due to its extremely competitive group pricing package, the quality of their equipment, their installation capacity, and their deep experience with community solar programs.
Direct Energy Solar makes going solar easy. The firm provides a turnkey installation service, and after the array is operational, Direct Energy Solar offers free brokerage services for their customers' solar renewable energy certificates (SRECs).
The company also has the size and stability to be present for the long run, and to stand behind the 10- and 20-year warranties it offers. I can personally testify to the ease of the installation process and to their post-installation services, having purchased our array from Direct Energy Solar (then called Astrum Solar) in early 2012.
Belmont Goes Solar will sponsor several upcoming events to inform town residents and businesses about solar. The first "Meet the Installer" informational event (on January 13) has passed, but a recorded version will be available on local cable access through the Belmont Media Center. Another "Meet the Installer" event is scheduled for Saturday, January 23, at 2-3:30 PM at the Beech Street Center, 266 Beech St., Belmont. Additional events—including open houses where residents with solar panels will show their systems and answer questions—are also in the works.
Solar Prices Have Dropped
There has never been a better time to go solar in Belmont. Prices have declined dramatically in the past few years. The federal 30% investment tax credit remains in place, and the state subsidizes solar energy via a $1,000 tax credit. Proceeds from SREC sales help make a typical homeowner's payback period shorter than it has ever been (about 6-7 years).
That said, procrastinators may lose out. Massachusetts has capped the number of SRECs it will allow under the current SREC II program. Without legislative action, these SRECs may be fully allocated by the end of 2016. Arrays installed after the SREC cap is reached would not generate additional SRECs. Without SRECs and their associated income, payback periods would be longer.
Financing
Financing the cost of solar panels is a frequent concern. Some individuals or businesses can buy a system outright, which is generally the best financial option. Others obtain financing for their system, often through a home equity loan or home equity line of credit. Specialty solar loan programs are also available including some through Direct Energy Solar. The Mass Solar Loan program represents a brand new option. Under that program, lenders offer low-interest loans to Massachusetts residents, including people with moderate incomes or low credit scores. Direct Energy Solar also offers a purchase power agreement option (similar to a lease).
Belmont Solar by the Numbers
Size of typical home solar electric system

5 kW

Initial base cost to purchase a system through the Belmont Goes Solar program

$3.30 per installed watt,

$16,500 for a 5 kW system

Estimated tax credits

$5,950

($4,950 federal and $1,000 state)

Amount of electricity generated per year

Site-specific, but can be ~6,600 kW

Number of SRECs generated per year

~6, for 10 years

Estimated payback time

~ 6 to 7 years

Avoided carbon dioxide emissions per year

~3 metric tons
How to Go Solar
The Belmont Goes Solar website (www.belmontgoessolar.org) provides answers to many common questions, and knowledgeable Belmont residents have volunteered to serve as solar coaches to answer additional questions. To contact a Belmont Solar Coach, call 617-855-8209, or email coach@Belmontgoessolar.org.
To sign up for a free assessment of your site by Direct Energy Solar, call 800-903-6130 or fill out an electronic form on Direct Energy Solar's Belmont-specific website (go.directenergysolar.com/belmont-goes-solar). The first 20 signed contracts will receive a $500 discount. If Belmont signs up for 100 solar installs during the campaign, Direct Energy Solar will donate $25,000 towards installation of solar panels on a Belmont school or other municipal building; 50 signed contracts will result in a $10,000 donation
Whatever you do, don't delay because the best time to go solar is now!
Alix van Geel is a senior consultant at an environmental consulting firm in Cambridge. Her home in Belmont has a solar array, which was installed in 2012 by Direct Energy Solar (previously Astrum Solar). She serves as a town meeting member for Precinct 7 and as a volunteer solar coach for the Belmont Goes Solar campaign.