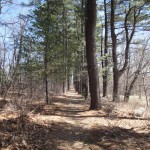 By Heli Tomford
For many years, social scientists calculated generations as twenty year intervals. By that estimate, it was a generation ago that a January 1996 Boston Globe headline stated: "McLean may quit Belmont campus to reduce costs." McLean fortunately did not quit its campus, a decision its trustees made half a year later. Instead, the hospital and the town of Belmont embarked on a long, arduous journey to reach an agreement on how McLean's 238 acre campus would be used–a journey that was significantly influenced by Judith K. Record.
While Belmont's Selectmen initially chose a cautious wait-and-see approach, many residents were deeply concerned about would happen at McLean. Problems at the hospital, including cutting a third of its staff between 1992 and 1995 and years of multi-million dollar deficits, had received some press coverage. However, many Belmont residents became alarmed by the latest news because extant zoning at McLean legally allowed single family homes on 25,000 square foot lots. These houses could potentially cover McLean's campus, most of which had been open green space for more than a century.
The League of Women Voters sponsored an informational meeting in March 1996. An overflow audience asked questions until the library closed. Clearly many residents were worried about what would happen with McLean. One attendee—Judy Record—felt there were too many unanswered questions, and that the time to try to begin answering them was now, not later.
Like many other residents, Judy, a native of Michigan, and her family chose Belmont as home because the children could attend fine schools and the parents could commute to work easily. Judy also appreciated the proximity of the Western Greenway. Whether walking, riding a bike, or cross-country skiing, Judy relished her routine of daily time outdoors, and she valued the natural habitats Belmont offered in which to pursue these activities close to home. In 1995 Judy retired from working as a lead systems analyst, managing large, complex software projects for major financial institutions. She opened her professional tool box again as she set out to protect the woods and meadows she had come to know so well.
The internet explosion had not yet happened in 1996, although Judy's computer expertise was top-notch; information gathering was different a generation ago. Whether land conservation, McLean's history, zoning issues, or vernal pools—anything pertinent to the local land protection—Judy was relentless in educating herself about the issues at hand. She trekked to government offices and libraries to do research, tracked down and interviewed anyone with relevant knowledge, and attended lectures and meetings in other places facing similar land use situations. It all became another daily routine for Judy.
Judy excelled in networking, in educating others about what she learned, and in attracting like-minded team members. Before long it became evident that because many other people also cared about keeping this important green space, it was time to form an organization. Thus, the McLean Open Space Alliance (MOSA) began with Judy at the helm.
When the town appointed a McLean Task Force in the summer of 1996, Judy was rejected as an appointee. She rationalized that she could be more effective at protecting land by not being a member. Nonetheless, she attended every meeting or made sure another MOSA member did. She reviewed what happened at meetings and followed up with more rounds of calls, conversations, and information gathering, now also delegating tasks to the growing MOSA membership. Judy looked to Margaret Mead's adage "Never doubt that a small group of thoughtful, committed citizens can change the world; indeed, it's the only thing that ever has," to motivate citizens during the protracted negotiation process. MOSA members might cite Judy's leadership as the real change agent.
Over the course of almost three years, the town and McLean worked diligently, reaching an agreement that came to a March 1999 Town Meeting. It failed the two-thirds vote (133-132) required for zoning articles. The defeat revived the threat of "by right" development with mega-mansions scattered across the open space.
At that point, Judy's practical Midwestern sensibility came to the forefront. She supported a compromise: save a large swath of open space by allowing re-zoning to accommodate multiple uses of the McLean campus. With characteristic zeal, she advocated vigorously for the proposed re-zoning plan. It was approved 206-61 at a May Special Town Meeting. That vote was tested just a few months later by a citizen-initiated referendum attempting to override Town Meeting's decision. Judy was instrumental in getting out the vote to uphold the zoning changes. Over 50% of voters cast ballots (unusually high for Belmont's local elections), favoring Town Meeting's decision 6,108-2,677. A Memorandum of Agreement between the Town of Belmont and the McLean Hospital Corporation was signed on November 22, 1999.
While some organizers might have sat back at this point, Judy continued her pro-active involvement, now with a goal of ensuring that the allowed re-zoning would be environmentally sensitive. In an ironic twist, she was often sought out for her expertise on the McLean landscape. For example, the developer of the new townhouse zone asked Judy's advice about which trees to keep! Through her passionate commitment to conservation, combined with her commitment to obtaining thorough knowledge of the issues, understanding the needs of involved parties, and striving for transparency in communications, Judy garnered the respect of many people in and out of Belmont. She encouraged civic engagement both as a way to protect land and as a way to define Belmont's values and make them a reality.
Judy Record died on September 11, 2000 from head injuries sustained in a tragic bicycle accident. Her loss was keenly felt by colleagues and friends, concerned citizens, and members of town committees and municipal agencies. In recognition of her work, the Massachusetts Chapter of the American Planning Association honored her posthumously with its Citizen Planner Award. With a wish to recognize Judy's dedication to land conservation, family and friends created the Judith K. Record Memorial Conservation Fund (JKR Fund) for the protection, rehabilitation, and maintenance of open space in Belmont and surrounding areas.
Mass Audubon is the JKR Fund's fiscal agent, and a Board of Trustees directs the Fund's activities. With initial memorial contributions supplemented by subsequent annual fundraising, the JKR Fund has made over two dozen grants that meet the Fund's criteria. A variety of local organizations and projects have benefited from this support. Foremost is Lone Tree Hill, the 88-acre conservation area deeded to the Town by McLean in 2005—the area Judy Record worked so diligently to protect. The JKR Fund collaborates with the Land Management Committee, which oversees the area and is composed of representatives of the Hospital and the Town. The JKR fund has made grants to:
conduct a comprehensive study of extant trails;
establish a defined, systematic trail network accommodating walking and biking;
design, create, and install trail signage and markers;
erect two information kiosks at entrance areas at Mill Street and Concord Avenue;
rebuild the historic stone wall along Concord Avenue;
and underway now, restore the Pine Allee, a Lone Tree Hill landmark.
See "Record Fund Protects Belmont Open Space," BCF Newsletter, January 2014 for details about grants.
Soon after Judy's death, flutist Andrea Nolin organized a memorial concert. Over the years, the Record Players' concert has become an annual winter tradition, thanks to the dedication of Nolin and her fellow professional musicians. Concert sponsorships have become the primary source of fundraising that supports the JKR Fund's grants. The Record Players' Concert XVI will take place on Saturday, February 27, 7:30 PM at the First Church in Belmont UU, 404 Concord Avenue. Information about the Fund, including the grant application process, can be found at www.jkrfund.org.
Heli Tomford is a Trustee of the Judith K. Record Fund.
Pine Allée
The most breathtaking spot on Lone Tree Hill conservation land is the Pine Allée.  This long walkway runs east and west, parallel to Concord Avenue, between double rows of 165 huge white pines. It invites a quiet stroll on a bed of soft pine needles. Unfortunately, during its approximately 100-year existence, the majestic trees have suffered. Some have blown down owing to top-heavy growth; adjacent woodlands have encroached on the allée; insect-borne disease and thick undergrowth have damaged this lovely feature of the open space.
Recognizing the urgent need to care for this remarkable place, the trustees of the JKR Fund chose Tree Specialists Inc. of Holliston, MA, to conduct an assessment of the health and condition of the trees in the allée and make recommendations. On the basis of the company's report, the trustees offered to meet the costs of up to $150,000 to care for the allée, with Belmont's Land Management Committee contributing $15,000 for the planting of pine seedlings in the gaps along the rows.
Tree Specialists Inc. will begin high priority work in January 2016, removing invasive brush in the understory, removing dead trees, and high pruning designated trees.