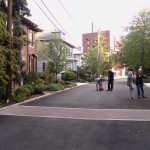 by Meg Muckenhoupt
In October 2014, the city of Cambridge finished building its first "shared street" on Longfellow Road, a dead-end street across from Mount Auburn Hospital. One year later, the paving and plantings looked as if they'd always been there. . . and as if it is perfectly natural to have cars, bicycles, pedestrians, and dogs all in the same space.
The project began in 2012, when Longfellow Road residents started considering how to repair their street and sidewalk. Several street trees were unhealthy, and needed to be removed—but new trees couldn't be planted on Longfellow Road because the sidewalks were too narrow to accommodate them. City officials including Catherine Watkins, city engineer, and Ellen Coppinger, landscape administrator, worked with residents to come up with a plan for a new street.
Now, Longfellow Road's sidewalks have disappeared. They've been replaced with deep planting beds. The roadway is flat and smooth, with no curbs. It's accessible by pedestrians, bicyclists, and drivers alike. The wide garden beds in front of houses make the entire street seem greener—more like a space to come home to, not just a place to get through as quickly as possible.
This street configuration works partly because Longfellow Road is a low-traffic street. It's easy to share a street with cars when they're mostly driven by your neighbors. But the street's design tells visitors that they are not on a typical roadway, and they need to think differently when they're driving. So far, Longfellow Road's only real challenge has been the fact that last summer's drought meant that new trees needed a lot of watering—but the neighbors worked together to keep them thriving.
Meg Muckenhoupt is editor of the Belmont Citizens Forum Newsletter.